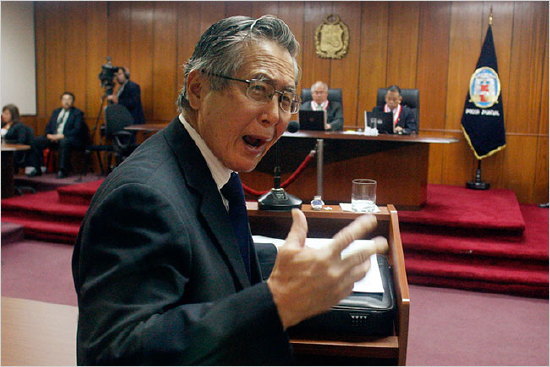 (above) Former President Alberto Fujimori of Peru testified Wednesday on his own behalf in Lima in his trial on human rights abuses. (Photos: Pilare Olivares/Reuters)
At Trial, Peru's Fujimori Says He's Innocent
April 1, 2009 - New York Times (AP)
By ALEXEI BARRIONUEVO

RIO DE JANEIRO -- Former President Alberto K. Fujimori of Peru defiantly defended himself in court on Wednesday against accusations of human rights abuses, saying that he was innocent of murder and kidnapping charges related to his government's counterinsurgency tactics during a bloody period of guerrilla attacks in the early 1990s.

Mr. Fujimori took the stand in his own defense at his trial in Lima, Peru, now in its 15th month. He was seeking to convince a three-judge panel that he should not be held responsible for a dirty war that prosecutors said led to the deaths of 25 people by two military death squads, as well as the kidnappings of a businessman and a journalist.
In nationally televised testimony, Mr. Fujimori read from a prepared statement, describing the campaign against guerrillas during his presidency from 1990 to 2000 as a "policy of pacification."
"I did nothing wrong," he said indignantly. "The Peru that I inherited was a disaster. It was a Peru that had to be rescued." He added that the campaign against terrorism was intended to "eliminate the disorder and anarchy that had taken hold of Peru."
Mr. Fujimori is believed to be the world's first democratically elected former president to be tried for human rights violations in his own country.
Dressed in a dark gray suit and blue tie, he showed few signs of the various medical conditions, including hypertension, that have caused frequent delays in the trial.
Shaking his right hand at times to emphasize a point, Mr. Fujimori, 70, spoke for nearly two hours. He is scheduled to conclude his defense on Friday. He faces 30 years in prison if convicted.
None of the 80 witnesses and nearly two dozen outside experts who testified during the trial have directly linked Mr. Fujimori to two deadly operations by the Colina group, a special military unit. Rather, prosecutors have argued that as commander in chief and leader, he did nothing to try to stop the killings of guerrilla suspects and their supporters. He is charged with failing to stop the Colina group from massacring 15 people, including an 8-year-old boy, in 1991 at a barbecue in Lima, Peru's capital.
He is also charged with human rights violations related to a raid at La Cantuta University in 1992 that left nine students and a professor dead. Their incinerated bodies were found a year later.
Mr. Fujimori described the early years of his presidency as a time of persistent guerrilla attacks in Lima that demanded bold action. His government ultimately subdued the insurgencies, capturing the leader of the Maoist-inspired Shining Path in 1992 and defeating the Tupac Amaru Revolutionary Movement in 1997.
On the stand Wednesday, Mr. Fujimori acknowledged that he had sent the military into towns, but he insisted that soldiers were armed only with "picks and shovels" to develop very poor areas.
Supporters lined the road leading to the police complex where the trial is being held.
"I think it's very unjust that they want to put him away for giving us security," said Fernando Navarro Quispe, who works in a pharmacy in Lima. "We were living hidden in our homes because we were afraid to leave."
Andrea Zarate contributed reporting from Lima, Peru.