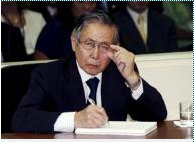 <= Slideshow: 19 photos
Peru's Fujimori gets 25 years prison for massacres
April 7, 2009 - Reuters

By Teresa Cespedes and Terry Wade
LIMA (Reuters) - Former Peruvian President Alberto Fujimori was convicted of human rights crimes and sentenced to 25 years in prison on Tuesday, the first time a democratically elected Latin American president has been found guilty in his own country of such offenses.
A three-judge panel convicted him of ordering a military death squad to carry out two massacres that killed 25 people during his 1990-2000 rule, when he was battling communist guerrillas. Nearly 70,000 people died in two decades of conflict in the Andean country.
Once lauded as a hero, Fujimori, 70, could spend the rest of his life in prison. The verdict is likely to have far-reaching political implications for Peru.
"He was the president who saved our country from terrorism," the former president's daughter Keiko Fujimori, a presidential hopeful and popular lawmaker, said as she called for supporters to march in the streets to protest the verdict.
The elder Fujimori did not react to the ruling except to say that he will appeal it.
Fujimori's popularity soared when he defeated the brutal Shining Path guerrillas, tamed economic chaos and freed dozens of hostages taken by the Tupac Amaru insurgency during a siege at the Japanese ambassador's house in Lima.
But a corruption scandal involving his spy chief, Vladimiro Montesinos, sank his government in 2000. Fujimori fled to exile in Japan, the country where his parents were born. He was later arrested in Chile and extradited to Peru, where he often snoozed through testimony and took off his socks.
Other Latin American rulers faced trials over human rights crimes before Fujimori, but they were military dictators or prosecuted outside their home countries. Chilean General Augusto Pinochet died in 2006 before he could be convicted.
A TURNING POINT
Activists saw the trial as a turning point for Peru, still coming to terms with a bloody civil war that started in 1980.
"For the first time, the Peruvian justice system rose to the occasion in this historic fight against impunity," said Gisela Ortiz, whose brother was killed at La Cantuta University in 1992 as Fujimori's squads hunted for presumed leftists.
Fujimori's conviction stemmed from the La Cantuta killings and a 1991 massacre in the Barrios Altos section of Lima.
Many abuses by people on both sides of the civil war have never been prosecuted, and thousands of unmarked graves scar the countryside.
The Shining Path, led by a Maoist philosophy professor named Abimael Guzman, was perhaps the most brutal of Latin America's insurgencies. It beheaded people with machetes in the plazas of Andean towns, bombed the capital and killed journalists. Guzman is currently in prison in Peru.
The state, which was nearly toppled, struggled for years to halt the onslaught and sent guns to groups of vigilante peasants in the hinterlands to help the army.
The violence also ensnared the current president, Alan Garcia. He has been haunted by accusations that he violated rights during his first term from 1985-1990. Pressure to put him on trial may grow following the Fujimori verdict.
"With this ruling ... the Peruvian court has shown the world that even former heads of state cannot expect to get away with serious crimes," said Maria McFarland of the group Human Rights Watch.
Garcia has fended off charges by saying he was a democratic leader who lacked total control over the military, whereas Fujimori turned into an authoritarian president and shut down Congress.
Already a front-runner for the 2011 presidential race, Fujimori's daughter, a conservative like her father, has painted the former president as a savior rather than sinner.
If no candidate wins a majority in the initial election, the 33-year-old could end up in a run-off against fellow hopeful Ollanta Humala, a leftist ally of Venezuelan President Hugo Chavez, who nearly won in 2006.
Garcia, who is barred by the country's constitution from running for re-election in 2011, has told foreign investors he will do his best to derail Humala's candidacy by persuading Peruvians to reject leftist models that have regained popularity in Latin America.
(Additional reporting by Marco Aquino and Jean Luis Arce; Editing by Will Dunham)