Smugglers, $67 Llama Lure Tourists to Adventurous Lake Titicaca
April 20, 2009 - Bloomberg.com

By Melissa Burdick Harmon
April 20 (Bloomberg) -- While shopping 12,500 feet above sea level at a market not far from Lake Titicaca, I discovered that I could buy a llama for about $67, a patty of cow dung for 60 cents and a cat for 30 cents.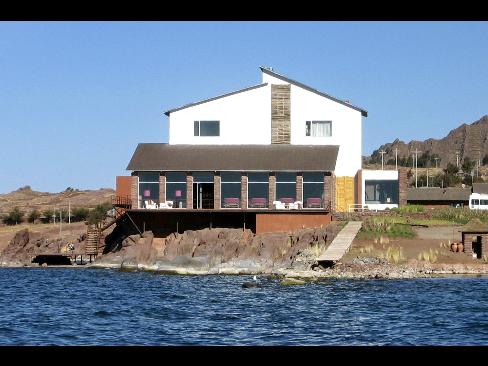 Odd livestock and droppings aren't the big curiosity one encounters around here, though. The Uro people of Peru have lived atop the waters of Lake Titicaca since long before the start of the Incan civilization thousands of years ago. And that's literally atop the lake.
Locals build reed islands on which they construct reed houses and whence they travel via handsome reed boats. They fish, gather edible floating greens and catch or shoot birds for food. This is their way of life, although young people are starting to move to the shore and beyond.
Maybe the youths are looking for stability. I found walking on the small, soggy reed islands challenging, especially with no barrier to keep you from slipping into icy water. Even though islanders regularly replace the top layer of reeds, children have been known to fall through when the reeds that form the island's bottom have decayed. Thick eucalyptus trunks anchor the islands to the lake bottom.
On a bright winter's day in July, an Uro man and his son picked up my husband and me at the dock that fronts Hotel Titlaka overlooking the Bay of Puno, where we stayed. The sky and water were deep blue, and the snow-draped mountains of Bolivia glistened in the distance as we floated from our overgrown Hamptons beach house of an inn to the world of reed islands, topped with reed houses that look so fragile the wicked wolf could easily huff and puff them down.
Bubble-Gum Balloons
Landing at one of the smaller islands, maybe 50 feet long, we found an ancient culture and kids blowing pink bubble-gum balloons. An old-before-her-time woman in ragged, rainbow- colored clothing quietly nursed her baby. Children played a game like tag as the damp reeds squished under their feet. A cold wind whipped over the island.
Legend claims that the last pure-blooded Uro died 50 years ago. Nowadays, their gene pool being quite small, the Uro often intermarry with the local Aymara and Quechua people.
As I looked out from the island, Lake Titicaca seemed to stretch on forever. The world's highest navigable lake is a vast inland sea ranging all the way to Bolivia. To sail from Puno to the part of the Bolivian shore that is closest to the capital of La Paz is a journey of more than 100 miles (160 kilometers). The two countries' border lies somewhere in the middle of the lake.
That aquatic line makes Lake Titicaca a busy place at night, when smugglers cross in small boats, navigating by the stars and carrying bargain-priced Bolivian goods to sell in local markets in Peru.
'All Contraband'
With the flood of illegal imports, the market in Juliaca, Peru -- where I saw the cheap cats -- is booming on Sundays.
"Contraband. All contraband," my guide, Julio Suano, said.
"They smuggle toilet paper?" I asked.
"Sure," he said. "Also Chinese motorcycles and crackers. And gas. Gas is six soles (about $1.93) a liter in Bolivia and 15 soles (about $4.83) a liter here."
The next day we sailed to the beautiful island of Taquile. This is a real island, of sheer rock and sharp terraces built by the Inca; of golden fields, rich brown furrowed soil and deep- green deciduous trees.
Add in the red-roofed houses, and it could have been air- lifted from Tuscany, though without electricity and cars. Suano said the islanders were isolated from modern culture until the 1950s.
Textile 'Masterpieces'
Taquile's economy is based on a long tradition of weaving textiles so special that four years ago Unesco declared the island and its art one of 43 "Masterpieces of the Oral and Intangible Heritages of Humanity." They weave their colorful creations on fixed and pedal looms that date back to pre- Hispanic times.
We puffed up the steep switchback trail to the island's summit to see samples of the masterpieces. Miguel Cruz Qispe, one of Taquile's most famous weavers, greeted our boat and then literally bounded up the 535 stone steps that are the alternative route to the top. He greeted us again at the summit, not even remotely out of breath after a life of climbing at high altitudes.
Men, women and children knit and weave together, and dress in the traditional clothing they make. The Taquile weavers are best known for the chullo, a knitted hat worn by men for the past six centuries.
A red-and-white chullo indicates availability for marriage, while all-red means already taken. The islanders are also known for a calendar belt that men wear, showing the seasons, farming activities and local traditions throughout the year.
High Price, No Haggle
The prices are high for Peru. An intricate calendar belt can go for more than $100, and there seemed to be little willingness to bargain. Elsewhere I bought a handwoven bag from a woman on a roadside for $5. Granted, it wasn't a Unesco- designated masterpiece.
The new Hotel Titlaka, an 18-suite boutique hotel, goes far to address the lack of fine accommodations around Lake Titicaca. The minimalist interiors provide a perfect backdrop for the vivid indigenous art that blooms in every corner.
Each suite features a huge soaking tub, good for sore muscles after the climb up Taquile, and large lake-view windows. The rate of $552-$725 per person per night includes full board and all cocktails, house beverages and wine with meals, as well as boat trips to the islands and guided visits to local sights and villages. Guests reserving for two nights will receive a complimentary additional night.
Kayaks and sailboats are available for guest use. So are oxygen tanks, which cured my husband in five minutes after a night of altitude sickness.
Information on visiting Lake Titicaca can be found at: http://www.perutourist.info/puno_lake_titicaca.html or http://www.peru.info. Travelers typically fly from Lima to Cuzco to Juliaca Airport. The better hotels include airport transfers and tours to both Uros and Taquile in their rates.