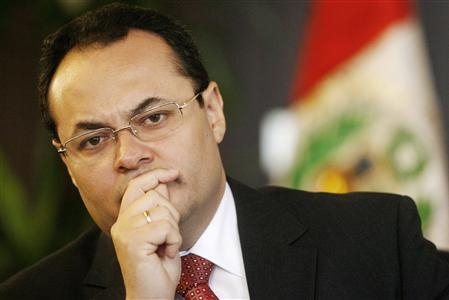 Peru finmin says bottom has been reached
May 5, 2009 - Reuters
By Marco Aquino and Terry Wade
LIMA (Reuters) - The worst of the fallout from the global financial crisis has passed in Peru and its pace of growth should start to recover in the second quarter, Finance Minister Luis Carranza said on Tuesday.
Carranza, who spoke at the Reuters Latin American Investment Summit in Lima, said Peru should soon feel the benefit of more stable global financial markets and its own counter-cyclical economic policies.
"We likely hit the bottom in the first quarter, and we should see a stronger recovery in the second quarter," he told Reuters.
The government's economic stimulus program is "going well" and he has no plans at the moment to increase its size from $3.2 billion, or roughly 3 percent of gross domestic product, Carranza said.
Capital spending for infrastructure included in the program rose 43 percent in March from the same month last year. Public investment is on track to grow 50 percent in 2009 and should create 215,000 new jobs, mainly in infrastructure, he said.
"There's a much more expansive fiscal policy, which is totally financed. It will support domestic demand in the second quarter and going forward, and monetary policy has entered into an expansionary phase since inflation expectations have come down," Carranza said.
Both factors "will sustain growth in the second half of this year," he said.
The central bank has said that if inflation allows, it will "aggressively" cut interest rates, now at 5 percent.
Carranza said the economy likely grew between 2 percent and 3 percent in the first quarter, while growth for 2009 should come in between 3 percent and 4 percent.
He also hopes concessions for infrastructure projects and public-private partnerships will lure $1.5 billion to $2 billion in private investments in the coming quarters.
The pace of overall economic expansion should accelerate to between 5 percent and 6 percent in 2010, Carranza said.
DEBT MANAGEMENT
Peru, which braved turbulent credit markets to sell a $1 billion global bond in March, has pre-financed all of its needs through 2010.
Though Carranza said he is in no rush to wade into debt markets again any time soon, he acknowledged that debt management options could open up as the U.S. dollar weakens against the Peruvian sol.
"We always are studying market conditions and analyzing debt management possibilities," he said. "We aren't ruling anything out," he said of debt sales, swaps or exchanges.
In his first term as finance minister, Carranza's aggressive moves to pay down foreign debt were credited for winning the country's first investment grade credit ratings from Fitch and Standard & Poor's in 2008.
He later left for about six months but was called back in January as Peru's surging economy, which grew nearly 10 percent last year, began to slow and its metals exports retreated.
He said the public sector debt load should end this year at 15 percent of GDP and that its profile is increasingly longer term, fixed-rate, and denominated in soles.
POVERTY
Peru has long suffered from grinding poverty, especially in the Andean highlands, and poverty afflicted nearly half of the population less than a decade ago.
President Alan Garcia, a former leftist who now firmly supports free trade and private investment, has promised to reduce poverty to 30 percent by the time he leaves office in 2011.
The latest official statistics put poverty at 39 percent and Carranza said his stimulus package includes special outlays for the poor.
(Writing by Terry Wade; Editing by Kenneth Barry)