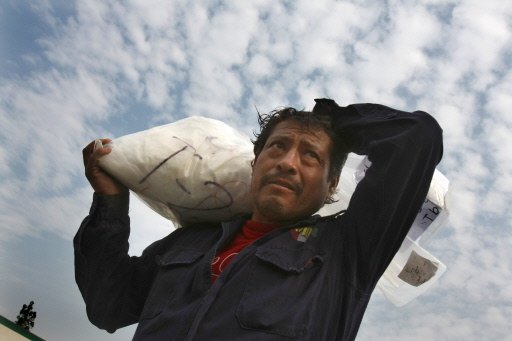 (above) A man carries a bag containing cocaine to be burnt at a police base in Lima
In Peru's jungles, drugs offer youths a way out
May 13, 2009 - AFP
LLOCHEGUA, Peru (AFP) -- They are called "mochileros," or backpackers, many of them mere children, but in the dense jungles of southeast Peru they play a vital role, ferrying drugs on their backs to the outside world.
Traveling the most remote trails at night, this virtually invisible army is recruited from youths with no other way out of the poverty and neglect of the the country's coca producing lowlands, experts say.
In the valley between the Apurimac and Ene Rivers, mochileros carry out coca -- which is used to produce cocaine -- by foot to the Andean highlands and from there to Lima in arduous, danger-filled treks aimed at satisfying the world's demand for the drug.
They travel armed and in groups, sometimes under the protection of Shining Path guerrillas, members of the Maoist group that waged a brutal insurgency in the country.
(below) Police burn bags with cocaine at a police base in Lima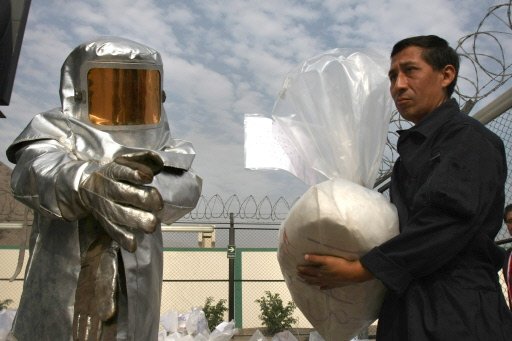 They can make up to 150 dollars apiece per trip, but the risks are enormous, with the army on the prowl or bandits laying in wait.
Peru's army chief General Otto Guivobich says "the mochileros don't travel alone but in groups, with the protection that the Shining Path gives them," and acknowledges they are hard to find.
In 2008, the commander of a military operation "encountered a column of mochileros of some 15 armed men, and there was a clash," he said. Seven mochileros were killed and seven firearms were captured, he said.
"Youths who have no secondary school education, seeing that their only option for continuing to study is in Ayacucho or Lima and what that costs, turn to the coca trade and end up as mochileros," Edgar Licra, governor of the municipality of Llochegua, told AFP.
In Andean communities, the mochileros are referred to as "the people who walk in the heights," a description also used to refer to the Shining Path.
"You travel at night on the paths that climb the sierra. Sometimes 30 or 40 mochileros will go. For security reasons, the minimum number is ten, with an armed guide and one who guards the rear," a former mochilero told AFP.
The man, who would not give his name or say how he made a living, said he was 24 but had the weather-beaten look of an older man.
"In the group I knew each mochilero was allowed to carry no more than 10 kilograms (22 pounds) for long trips of two or three days. Some asked to carry more to make more money, but they would not let them because they needed to walk quickly," he told AFP.
Hugo Cabieses, an expert on the Valley of the Apurimac and Ene Rivers, known by its Spanish acronym as VRAE, says youngsters become mochileros for lack of anything else to do in a region where 92 percent live in poverty.
"Unfortunately, there are many kids among the mochileros, a sign that someone from the VRAE is a youth without alternatives, permanently bombarded by television and radio with consumerism," he said. "They look for a livelihood and the narcos offer them mochila jobs."
Minors work not only as "mochileros." They also are put to work harvesting and drying coca.
Filomena Vicana Soto, a poor farmer, says her five young children "help harvest the coca and drying on Saturdays."
Other minors take up arms in the more than 400 self-defense groups in the region created in the 1980s to protect their remote communities from leftist guerrillas.
The self-defense militias, which have become a part of the communities' culture, are themselves suffering from official neglect, allowing drug traffickers and guerrillas to fill the vacuum.
"These are people with military training and neglecting them creates a danger that will be taken over by radical groups on the left," said Cesar Vasquez, a retired soldier.