Peru stands by asylum decisions
May 30, 2009 - BBC News

By Emilio San Pedro, BBC News
Peru's foreign minister has defended its decision to grant political asylum or refugee status to four opposition politicians from Bolivia and Venezuela.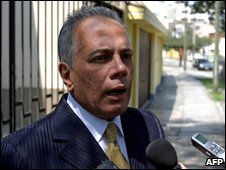 (right) Manuel Rosales in Lima, 22 April 2009. Mr Rosales has long been a vocal critic of President Hugo Chavez
They are facing criminal charges in their home countries, and both countries have denounced the moves as illegal and politically-motivated.
However, Peru's foreign minister says the strictest international standards were applied to the decisions.
President Hugo Chavez of Venezuela has asked Interpol to intervene.
Peru was thrust into the diplomatic line of fire when the Venezuelan opposition leader, Manuel Rosales, arrived in Lima after fleeing his native Venezuela when he was charged with amassing illicit wealth during his time of governor of the state of Zulia.
He claimed political asylum in Peru under the grounds that he was the victim of political persecution because of his role as the key opposition leader in Venezuela.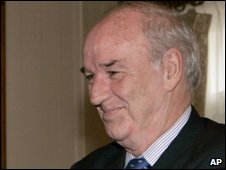 (right) Jose Antonio Garcia Belaunde. Peru's foreign minister stands by his country's decisions
A similar decision was taken by Peru in the case of three Bolivian opposition politicians shortly before they were due to go on trial for their alleged roles in the ordering of the killing of 65 people during an uprising in Bolivia in 2003.
Both Venezuela and Bolivia denounced the respective decisions as politically-motivated on Peru's part.
But Peruvian foreign minister Jose Antonio Garcia Belaunde says Lima did nothing wrong.
"We have applied international law, which is the law of the country," he said.
"The international conventions on asylum are valid in Peru as well as in Bolivia like in Venezuela. And, in fact the convention is the Caracas Convention. It was signed in Caracas in 1954."
The treaty may have been signed in Caracas but that is no consolation to President Hugo Chavez, who asked the international police agency, Interpol, to intervene in the case of Manuel Rosales.
Interpol agreed and has placed Mr Rosales on its international most wanted persons list.