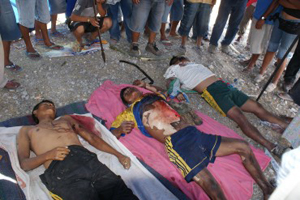 Peru Police Concealing Bodies of Indian Dead, NGO Charges
June 9, 2009 - Latin American Herald Tribune
BAGUA, Peru -- An international advocacy group for the indigenous peoples in Amazonia said Monday that Peruvian police are seeking to conceal the bodies of Indians killed during last week's confrontations in and around this northern city.
"Numerous eyewitnesses" saw police dump bodies from helicopters into the Marañon River and burn other remains to impede identification, Amazon Watch's Gregor McLennan said in Bagua.
Peruvian officials categorically deny the charges and Efe could find no one in Bagua who was able to confirm the allegations.
The region's chief medical examiner, Elbert Bazan, told Efe he heard rumors about police efforts to conceal bodies, though adding that his men had yet to discover any remains in the Marañon.
Aidesep, the main indigenous organization in the Peruvian Amazon, launched protests two months ago against Decree 1090, a law the Indians say undermines their control over ancestral territories by giving the government in Lima the power to grant mining, logging and drilling concessions without consulting area residents.
Indians have blocked highway and river traffic and seized control of oil-industry installations, effectively shutting down a pipeline that carries crude oil from the Amazon interior to Peru's northern coast.
The dispute turned violent last Friday, when police forcibly evicted protesters from a key highway near Bagua. While authorities say the Indians fired on cops, indigenous leaders maintain the protesters were not armed and blame the bloodshed on police.
President Alan Garcia's government says that 24 police and nine Indians died in the clash. Aidesep, however, puts the death toll among the protesters at between 30 and 40.
Hundreds of Indians who took refuge at a Catholic parish in Bagua after Friday's violence began returning to their communities Monday.
About 700 indigenous people sought shelter in the wake of the clashes, the Rev. Castinaldo Ramos told Efe.
Efforts to take the Indians home are being organized by the Catholic hierarchy and the National Ombudsman's Office, given the indigenous people's mistrust of the Peruvian army and police.
The conflict between Amazon Indians and the Peruvian government over Lima's push to expand mining, logging and oil drilling on indigenous territory threatens to become another Tiananmen massacre, Survival International said Monday.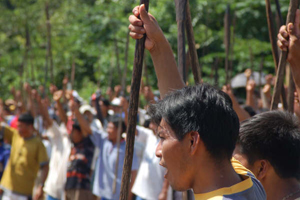 The London-based group called on oil companies operating in the region to suspend activity while Peru "comes to terms with the worst political violence since the Shining Path insurgency in the 1980s."
Energy Firms with operations in Peru's Amazon region include Anglo-French Perenco, Argentina's PlusPetrol, Canada's Petrolifera, Repsol YPF of Spain and Brazil's Petrobras.
Survival said the Garcia government has tried to dismiss the protests as a "conspiracy" involving the manipulation of "ignorant" Indians.
"Peruvian Indians are being driven to desperate measures to try and save their lands which have been stolen from them for five centuries," Survival's director, Stephen Corry, said Monday.
"Their protests signal that the colonial era has finally drawn to a close. No longer are Amazon Indians prepared to put up with the illegal and brutal treatment which has been routine. That's finished," Corry said.
"This is the Amazon's Tiananmen," he said, referring to China's bloody 1989 crackdown on student protests in Beijing. "If it finishes the same way, it will also end Peru's international reputation."