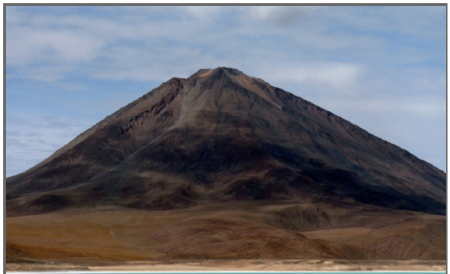 Photo/Video: Go to Orginal Story
Desert salt, desert wind
March 7, 2010 - Boston Globe
The remote, challenging landscapes of a gigantic salt flat, Andean heights, and empty desert

By David Abel

SALAR DE UYUNI - Seven of us squeezed into the decade-old Land Cruiser with 229,000 miles on its odometer and a roof rack loaded with a hefty gas reserve, hundreds of pounds of backpacks, and enough dulce de leche-smeared pancakes and other snacks to last three days.
If You Go
Tours of Salar de Uyuni usually leave from Uyuni, where there are at least a dozen operators. Tours can also be arranged in Tupiza, Bolivia, or in San Pedro de Atacama, Chile. A budget round-trip tour from Uyuni costs $99.
The mud-splashed Toyota with half its dashboard gauges inoperative would have to make it across 600 miles of some of the planet's most forbidding land, from a vast desert of windswept salt flats through rocky, moonlike plains splotched with arsenic-filled lakes to a geyser field in the freezing peaks that crown the Andes.
It was only an hour into the trip when, after a brief stop, our driver, Raul Quispe, ordered everyone out of the SUV. He fished through a tool kit and spent a few minutes turning the key and pumping the gas, without effect. He decided on a low-tech solution to what appeared to be a dead battery.
"Everyone needs to push," he commanded us, a group of sandal-clad tourists from Europe and the States.
On a journey without roads, even unpaved ones, it was the first glimpse of the risks and occasional improvisation involved in driving across Salar de Uyuni, the largest salt flat in the world, and through a surrounding desert that rises more than 15,000 feet above sea level. We would pass emerald-colored lagoons filled with flamingos, and herds of llamas and guanacos moseying through the mountains. But there were no gas stations, no cellphone signals, no help other than Quispe and other Bolivian guides, who had to be as knowledgeable about their vehicles as about the daunting landscape.
"I know every part of this car," Quispe boasted, after we shoved the SUV a few feet and the muffler chuffed to life.
Our trip late last year began in La Paz, the capital, where my fiancee, Jessica Leffler, and I had booked the three-day tour through a local travel agency for $110 per person. They advised us to keep our expectations low, particularly for accommodations, meals, and transportation.
The agency's website was surprisingly blunt, even noting that tourists had died on previous trips. "Due to the harshness of the terrain, vehicle breakdowns are common," it warned. "We would like to make it clear that things are not as reliable, comfortable, and professional as we would like. . . . If things go wrong you are faced with the reality of travel in a remote area of a developing country."
After a day wheezing through the high-altitude streets of La Paz, where markets crowd nearly every corner and vendors sell everything from large sacks of nuts to bottles of imitation Viagra, we boarded an overnight bus to Uyuni, a bygone railroad junction about 12 hours south.
We had been told the trip into the high desert plains known as the altiplano would be rough and sleepless, but the bus's ample seats reclined considerably, the crew served us hot food as if we were on an airplane, and the bumpy roads weren't a match for our fatigue. We passed out and awoke an hour before the squat buildings of the isolated town of 10,000 people appeared on the horizon.
With a hot morning sun slanting over a dusty, pockmarked street in the center of Uyuni, we stepped outside and found a young woman from the travel agency who escorted us to a small office. Before leaving, we stocked up on water and visited the local customs office to have our passports stamped, which was required because there were no consular officials where we would be exiting the country.
When the driver arrived, we heaved our bags on the roof and he wrapped them in an old tarp, securing it with a thick rope. We crowded into the SUV, drove past stray dogs traipsing through town, and rolled onto the closest approximation of a road we would encounter over the next three days.
The first stop, a few miles out of town, was the so-called train cemetery, a wasteland of rusting locomotives left to rot in the desert after the local mining industry collapsed in the 1940s. The century-old trains are slowly decomposing over the barren plains, their steel wheels burrowing into the dry earth, a testament to when foreign companies ferried minerals to the Pacific ports that Bolivia lost in a 19th-century war with Chile.
The sandy road from town quickly gave way to an evaporated sea that stretches more than 4,000 square miles, or 25 times the size of the Bonneville Salt Flats in Utah. From a distance, the blinding white expanse of Salar de Uyuni looks as flat as the Kansas plains, but there are countless bumps along the salty horizon, most in the shape of crusty polygons. The cracks in the earth have formed over millennia as a briny liquid rises from the remains of the prehistoric sea below and crystallizes in geometric patterns on the surface.
Quispe took us to an area where we watched as the brine bubbled into large puddles. When those evaporate, locals shovel the heaps of salt into neat piles, which they collect to sell as table salt. Afterward, we visited an old hotel made of salt - salt brick walls, salt tables and chairs, even salt bed frames. (The government ordered the hotel closed a decade ago - because of its effect on the pristine surroundings - but it remains very much in operation.)
Later, we traveled to the Isla Incahuasi, a seemingly improbable island of towering, thousand-year-old cacti, fossilized coral, and volcanic rock that looms over the desolate land like an oasis without water. After a hike up a craggy trail to the top, we ate lunch beside wandering ostriches and other camera-toting tourists, many of whom played with the optical illusions created by the unbounded horizon to take loopy pictures.
From there, we drove for hours across the empty desert, beneath dark clouds and ribbons of lightning, until we arrived at a gate and the first buildings of a project that could transform Bolivia. The government is building a pilot project to mine lithium - Salar de Uyuni has more reserves of the increasingly important mineral than anywhere on the globe - and it eventually hopes to supply the world with the ingredients needed to power everything from cellphones to electric cars.
We spent the night in an old mining town outside the Salar. If having to push our SUV hadn't made us understand the budget nature of our trip, the lodging did. We stayed in a drafty building made of cement blocks and slept in small rooms on lumpy beds. There were showers, but hot water was extra.
The next day we crossed from broad, volcano-ringed valleys where llamas roam to a series of mineral-rich lagoons that vary in hue from jade to lime, each home to hundreds of pink-necked flamingos. We passed the so-called "rock tree," one of a series of volcanic boulders that tower over the otherwise featureless desert like petrified trees sculpted by centuries of wind-borne sand.
Quispe drove mainly uphill, and by the end of the day we arrived at the blood-colored Laguna Colorado, where the arid air had turned frigid and we felt the altitude. We stopped for the night at a hovel even more spare than the previous night's. As we watched the sun splinter into strands of red, orange, and violet light, Quispe described how he makes the three-day trip twice a week and spends his only day at home repairing the battered Land Cruiser.
"The worst part of the job is the routine," he said. "But I've been lucky. I've never had an accident."
After a night shivering under sleeping bags in a room our group shared, we woke up before dawn and Quispe navigated the rocky path through snow-capped mountains more than 15,000 feet above sea level. He drove at speeds as if we were on a highway. At sunrise, we saw a curtain of fog rising in the distance, and as we approached, we saw a field of bubbling geysers. There were no fences, and we walked a slippery path through clouds of steam beside hot cauldrons, where a tourist fell in and died several years ago.
Afterward, Quispe raced the other drivers down the mountains to a pool of hot springs, where we soaked our cold limbs, drank hot chocolate, and learned of the camaraderie among the drivers. Another SUV had blown a tire, and we watched as they repaired it together - inflating a tube with one vehicle's engine compressor, using various tools to install the tube beneath the rubber, and locking it on the rim with the help of another driver, who drove over it methodically with his SUV.
"We have to help each other," Quispe said. "That's the only way to survive out here."
We left on a gravel path that curved through rolling hills of loose sand and jagged rock formations that Quispe said inspired the goopy landscapes of Salvador Dalí's paintings. After seven years of making the same trip, Quispe didn't need a map. He made his own road as we drove over dunes and below steep peaks.
The final stop of our three-day tour of the Bolivian desert seemed like the finale of a fireworks show: Laguna Verde, an arsenic-filled lake that reflects a towering volcano in its placid, emerald waters. There were no flamingos clustered on those shores.
We climbed out of the SUV and walked to the edge of a sandy bluff, where we gazed in silence as gulls rode the cool winds raking the lake. We stood there as long as we could, listening to the whistling of the wind, sucking in the dry, salty air, wishing to take a swim.
It was like the landscape of an imaginary planet - stark, poisonous, but eerily inviting, with colors that seemed too bright to be real.
And then we had to go.
We had a bus to catch out of the desert for the next leg of our journey, which would take us across the Chilean border and to the bottom of the continent.