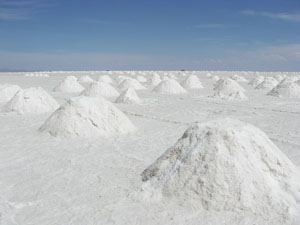 Bolivian Government Backs Off Plan to Create State Lithium Firm
March 23, 2010 - Latin American Herald Tribune

LA PAZ – Bolivian President Evo Morales, ceding to pressure from leaders in the southwestern province of Potosi, backed down from a plan to create a state-owned company to extract lithium reserves from the Uyuni Salt Flats.
In an interview Sunday with state television, Mining Minister Jose Pimentel said the government decided to repeal a decree creating Empresa Boliviana de Recursos Evaporiticos, or EBRE.
The decision came after the Potosi civic committee threatened to stage strikes and set up roadblocks if the decree was not rescinded before Tuesday.
That organization said authorities founded the La Paz-based company without consulting the region or taking into account that Uyuni is located in Potosi.
"The decree has been repealed and we think that with this step we're dropping any stance of centralism or interference in autonomous affairs that we've been accused (of adopting)," Pimentel said.
The Morales government currently is installing a pilot plant at Uyuni to process lithium carbonate on a small scale.
Later plans include building a bigger commercial plant before embarking on an industrialization stage beginning in 2013 that will involve the eventual manufacture of lithium car batteries.


Pimentel said "the only purpose of the decree" was to spur talks on an eventual plant to produce lithium in industrial quantities, which will require an investment of at least $350 million.
"Regrettably there was a misunderstanding, but we'll keep working ... industrialization of lithium is in our government's plans and we're going to carry them out," he said.
He added that, despite the decision to repeal the decree, a division of the state-run Bolivian Mining Corporation will remain in charge of the Uyuni project.
For their part, Potosi leaders announced that they will submit a bill to ensure EBRE will operate as an economically self-sufficient company with its headquarters in Potosi.
The U.S. Geological Survey says that Uyuni, an almost 4,000-square-mile expanse in southwestern Bolivia some 12,000 feet above sea level, holds roughly half of the world's 11 million metric tons of proven and probable lithium reserves.
The Andean nation is also home to two other smaller deposits of the world's lowest-density metal.