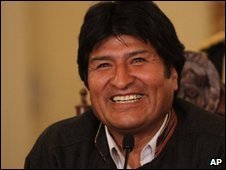 (above) President Evo Morales comfortably won re-election himself in December.
Bolivia's Evo Morales claims regional poll success
April 5, 2010 - BBC News
Bolivian President Evo Morales has hailed his party's success in regional elections but exit polls suggest he has suffered some setbacks.
Pro-government candidates were on course to win in five out of nine provinces, with one too close to call.
But the opposition seemed set to keep three eastern provinces, which contain much of Bolivia's natural resources.
Pro-government candidates won mayoral elections in three major cities but lost in La Paz, the seat of government.
Sunday's elections were for more than 2,500 provincial and local authorities.
Official results will not be published until next week but candidates for the governing MAS (Movement Towards Socialism) party appeared to be on course for victories in five provinces: La Paz, Cochabamba, Oruro, Potosi, and Chuquisiaca.
Mr Morales also claimed victory in Pando, where exit polls showed a near-tie.
But the opposition appeared to have retained control of three eastern states, Santa Cruz, Beni and Tarija.
MAS also lost out in the mayor's races in La Paz city and Santa Cruz.
President Morales won re-election in December 2009, and will remain in office until 2014.
Bolivia's first indigenous leader, he aims to redistribute resources and land in favour of the poor, indigenous majority.