Che Guevara tourist trail to follow his life through Argentina, Cuba and Bolivia
May 28, 2010 - DailyMailOnline

By Sarah Gordon

Che Guevara, the most famous face to adorn T-shirts the world over, is to be immortalised further with a tourist route taking in the Latin American countries he touched during his life.
Tourism chiefs in Argentina, Bolivia and Cuba are working together on a historic route that will trace the life of the icon.
Argentinian Guevara is already the focus of tourist sights in his home country with visitors flocking to see his birthplace and his wealthy family's plantation, but the latest collaboration will see the trail go international.
(below) Immortal: Che's memory is very much alive in Socialist Cuba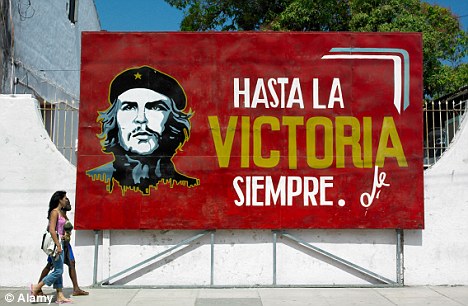 Visitors will be able to follow a historic route taking in the three countries that most influenced the young medical student's life.
After leaving Argentina Guevara joined the Castro brothers' uprising in Cuba where they established a communist regime.
He later left to fight alongside guerrillas in Bolivia in a bid to spread his Leftist ideals across Latin America, but was shot and killed there.
His body was buried along with six other fighters until 1997 when it was transported to Cuba where it now lies in a Mausoleum.

The travel industry has welcomed the idea which will inspire people to further explore some fascinating countries which are off the usual tourist trail.
"Everybody has heard of Che Guevara but not many people associate him with Bolivia, so it is a real opportunity to learn more about different stages in his life," said Laura Rendell-Dunn from Journey Latin America.
"The film The Motorcycle Diaries showed the world Che's journey through Latin America and we have even designed our own tour following in his footsteps, it's great to know that the countries are collaborating to ensure his memory too."
(below) Cinema star: The Film The Motorcycle Diaries, about Che's trip through Latin America, has already encouraged many tourists to the continent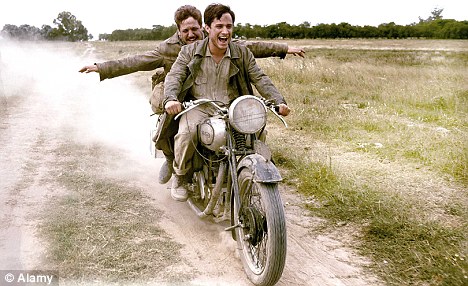 The 'Caminos de Che' will allow Guevara fans to follow his life through the three countries, learning more about some of the most the fascinating and tempestuous years in recent Latin American history.
Argentina and Cuba already receive a lot of tourists in search of Che, but the addition of Bolivia adds to the experience by tracing the last part of the idealist's short life.
Guevara's face has become one of the most recognised in the world thanks to an iconic photo which has been reprinted on T-shirts and posters and sold across the world - an irony considering his entire life was devoted to his Leftitst leanings and non-conformation.
The tourism authorities claim they will not be commodifying the leader through their trails, but simply offering the opportunity for people to learn more about the man behind the image.
"People all over the world ask us for more information," said Diego Conca, coordinator for the Che trail in Argentina.
"Each month there's more interest, and now with Bolivia, we think there will be even more."