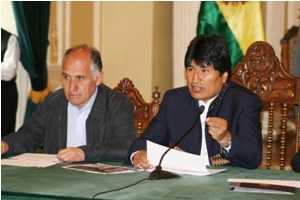 Bolivia: No Foreign Firm Fits Bill to Be Lithium Partner
October 24, 2010 - Latin American Herald Tribune

LA PAZ -- President Evo Morales said none of the foreign firms interested in mining massive lithium reserves at Bolivia's Uyuni Salt Flats complies with a government requirement to manufacture value-added lithium by-products in the Andean nation.

Morales told a press conference Thursday that "all the companies" that have expressed interest in lithium projects in Bolivia "want to invest just to buy lithium carbonate," the raw material for lithium-ion batteries.

"And why do they want to buy only lithium carbonate from us? So the lithium battery industry remains outside Bolivia," he said, adding that his government is looking for partners to produce that product on a large scale in the Andean nation.

Morales' administration began building a pilot plant two years ago to produce small amounts of lithium carbonate at the Uyuni Salt Flats, a dried-up sea bed that is located in the Andean high plains of southwestern Bolivia and which, according to Morales, is the world's largest reserve of the metal.

But the socialist president has consistently maintained that his government wants to promote the production of value-added lithium by-products, saying that merely exporting the metal as a raw material is a recipe for keeping Bolivia poor and underdeveloped.
South Korea's LG, Japan's Sumitomo and Mitsubishi, France's Bollore, China's CITIC Guoan, among others, have expressed interest in partnering with Comibol, Bolivia's state-owned mining company, to exploit Uyuni's lithium reserves.

Morales told reporters that investment proposals are "welcome," as long as they emphasize the development of technology to manufacture lithium-ion batteries in Bolivia.

Although he did not mention it Thursday, Morales also has repeatedly stated that potential partners must present plans for factories to manufacture electric vehicles, which in the future will be the largest consumers of the metal.

The president said Thursday that his country is prepared to invest up to $870 million to manufacture lithium-ion batteries but that it needs technology from foreign partners.
Referring to Mining Ministry figures, the president said Bolivia's nine salt flats contain 100 million metric tons of lithium, equivalent to 70 percent of the world's reserves of the metal.
He added that Bolivia's lithium reserves are sufficient to supply the planet's needs "for 5,000 years" at a production rate of 100,000 metric tons of lithium carbonate annually -- the current global demand for the metal.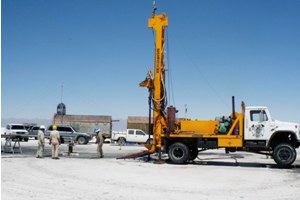 According to the president, Chile has 30 million metric tons of lithium, while China and Argentina have 3 million metric tons and 2 million metric tons, respectively, although he did not cite a source for those figures.

The U.S. Geological Survey, however, puts the lithium reserves at the 10,000-square-kilometer (3,860-square-mile) Uyuni Salt Flats -- the world's most vast salt plain -- at just 9 million tons.

Industry analysts have repeatedly criticized Morales for lacking a clear strategy for developing Bolivia's lithium business, considering the metal's importance for the incipient electric car industry and the use of lithium-ion batteries for electronic devices such as laptop computers, cell phones, iPods and digital cameras.