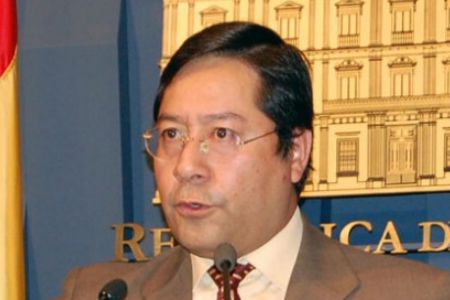 (above) Bolivian Economy Minister Luis Arce

No uranium plan with Iran: Bolivia
November 1, 2010 -- PressTV.ir

Bolivia says it has no plans for joint uranium exploitation and exploration projects with Iran, although the two countries have agreed to build a nuclear plant in the South American country.

"The uranium issue is not on the agenda, neither in any agreements. We have not decided on anything about uranium and still we do not have conditions to do it. We do not have any plan for this issue," Xinhua quoted Bolivian Economy Minister Luis Arce as saying on Sunday.

Arce dismissed media reports that Bolivia had launched joint projects with Iran to exploit uranium, saying during the recent visit by Bolivian President Evo Morales to Iran, the two countries held no talks on uranium because Bolivia has no studies or research in hand regarding what its reserves of that substance might be.

"We still haven't talked about uranium. I think that we're still not in shape to do so. We have to make studies, analyses and investigations to be able to speak about uranium," the minister said.

The Bolivian minister expressed his country's regret for efforts by certain politicians from the opposition and some media reports to describe relations between Iran and Bolivia as a threat to world peace.

The remarks came after President Morales confirmed on Saturday that Bolivia plans to build a nuclear plant with Iran's help, stressing the facility would be for peaceful purposes.

"There is nothing to lie about: One of the things we are working on with Iran is of course to have a nuclear plant, to generate energy," Morales said.

The Bolivian president arrived in the Iranian capital, Tehran, for a three-day official visit last Sunday to strengthen bilateral ties and seek more Iranian investment in the South American country.

During his meetings with Iranian officials, Morales invited Iran to establish a stronger presence in Bolivia. The two countries also signed five memoranda of understating following the talks.

Iran, as a member of the International Atomic Energy Agency and a signatory to the Nuclear Non-Proliferation Treaty, seeks to use the peaceful applications of nuclear energy for electricity generation and medical research.