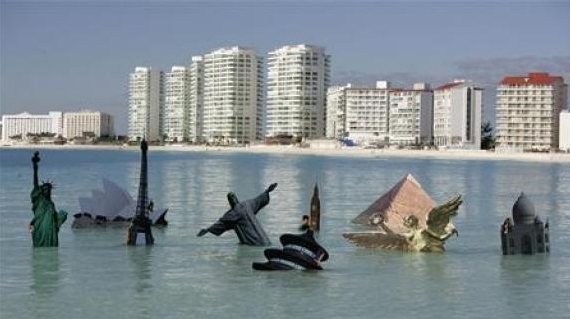 (above) Cardboard versions of New York's Statue of Liberty, the Sydney Opera House, Paris' Eiffel Tower, Rio de Janeiro's Christ the Redeemer, London's Big Ben, Cairo's Great Pyramid of Giza, Mexico's Angel of Independence, Agra's Taj Mahal and Beijing's Temple of Heaven stand in the ocean at the Gaviota Azul beach in Cancun December 8, 2010. Greenpeace staged a performance sinking the world's best known landmarks in the ocean as climate talks take place in the beach resort. Photo: REUTERS/Gerardo Garcia
U.N. climate talks on knife edge as Bolivia slams rich
December 9, 2010 - Reuters
By Chris Buckley and Patrick Rucker
CANCUN, Mexico (Reuters) - Talks on a 190-nation deal to fight global warming were on a "knife edge" on Thursday as Bolivia stuck to hardline demands and accused capitalist climate policies of causing genocide.
A deadlock between rich and poor countries on whether to extend the United Nations' Kyoto Protocol, which obliges almost 40 rich nations to curb greenhouse gas emissions until 2012, overshadows the two-week meeting in Mexico, which is due to end on Friday.
"It's on a knife edge, we could well have a good outcome but we could also have a car crash," said Chris Huhne, Britain's energy and climate change secretary, who is co-leading talks on Kyoto at the meeting in the Caribbean resort of Cancun.
If they solve the dispute over Kyoto, negotiators are aiming to set up a new fund to help developing countries cope with climate change, work out ways to preserve tropical forests and agree a new mechanism to share clean technologies.
One draft suggested a vague wording that simply left the future of Kyoto open. It says that environment ministers call "for the conclusion as soon as possible of ... the negotiations for a second commitment period of the Kyoto Protocol."
Bolivia's left-wing president, Evo Morales, reiterated calls for radical cuts in greenhouse gases by developed nations under Kyoto to protect what he calls "Mother Earth."
(below) Bolivia's President Evo Morales gives a speech during a plenary session at the Moon Palace, where climate talks are taking place, in Cancun December 9, 2010. Photo: REUTERS/Henry Romero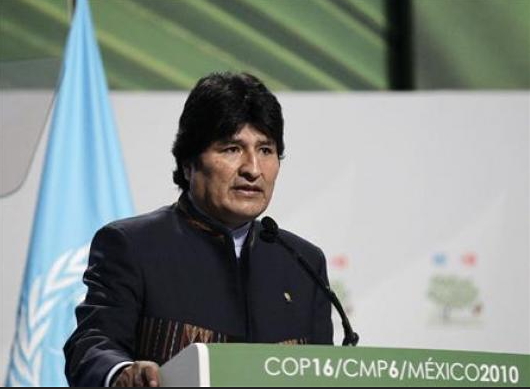 He said 300,000 people die annually from droughts, floods, desertification, storms and rising seas caused by greenhouse gas emissions since the Industrial Revolution. He described the deaths as "genocide" caused by capitalism.
"There are two ways: either capitalism dies or Mother Earth dies," Morales said. Compromise, he said, would be to cheat mankind and he suggested a "worldwide referendum" on climate issues from Cancun.
Bolivia's demands include that rich nations cut in half their greenhouse gas emissions from 1990 levels by 2017 and go beyond those even of the poorest African nations and small island states that are among the most vulnerable to a changing climate.
Some diplomats fear that Bolivia's position could derail the entire conference, where any deals require unanimity.
MODEST AMBITIONS
Ambitions for Cancun are already modest after a U.N. summit in Copenhagen last year failed to agree a binding deal, partly because of opposition from a handful of nations including Bolivia and Sudan.
Japan's Environment Minister Ryu Matsumoto reiterated that Tokyo will not commit to a new period of Kyoto.
"Japan will not associate itself with setting a second commitment period," he said in a speech. Tokyo wants a new U.N. deal that binds Kyoto countries and all big polluters including the United States, China and India to limit their emissions.
The developing nations say Kyoto members, most responsible for emitting greenhouse gases since the Industrial Revolution, must show the way and unilaterally agree to extend Kyoto as a sign of goodwill to unlock action by developing countries.
Kyoto is the first legally binding U.N. pact meant to encourage trillion-dollar shifts in the world economy away from fossil fuels toward cleaner energies such as wind and solar power by placing a penalty on greenhouse gas emissions.
"Time is very, very limited now," said European Climate Commissioner Connie Hedegaard. "I think that (given) what is at stake - that is, the future of the process -- we must deliver something."
Separately, Saudi Oil Minister Ali al-Naimi urged negotiators to extend new U.N. credits to help fossil fuel producers capture and bury greenhouse gases.
And he said the outcome should not penalize oil. "We expect the outcome to discourage any protectionist trade policies that are a bias against ... petroleum products," he told the plenary session of the global talks.
(Writing by Alister Doyle and Gerard Wynn; editing by Kieran Murray and Mohammad Zargham)