(above) Rene Flores makes a devil's mask on February 16, 2011 in Oruro, 230 km south of La Paz, Bolivia, for Oruro's carnival, one of the most famous festivities in South America. Photograph by: Aizar Raldes, AFP/Getty Images

Devil gets his due at Bolivia's raucous Carnival
March 2, 2011 - Montreal Gazette


By Jose Arturo Cardenas, Agence France-Presse

ORURO, Bolivia - Brazil's famous Carnival celebration may steal the world's attention, but an equally riveting spectacle in Bolivia this week melds indigenous and Christian traditions, and has the devil at the centre of the action.
Bolivia's Carnival of Oruro is second only to that of Rio de Janeiro among the world's riotous celebrations in the days preceding Lent.
A kaleidoscope of song, dance, music, masks and textiles, the celebration is held each year among indigenous people of Oruro, a mining town of some 230,000 inhabitants nestled in the mountains of western Bolivia.
The procession falls on March 5 and 6, with some 30,000 singers and dancers taking part in a raucous parade that at its highpoint will stretch for some 10 kilometers.
Bracketing the parade is a communal celebration spanning several days of dancing, singing, drinking and bacchanal merry-making.
But the most distinctive feature of the Carnival celebration here may be its focus on the netherworld and its inhabitants.
(below) Edwin Llave hand-embroiders a devil's costume to be used in the traditional "Diabladas" during the upcoming Oruro's carnival, one of the most famous festivities in South America, on February 16, 2011 in Oruro, 230 km south of La Paz, Bolivia. Photograph by: Aizar Raldes, AFP/Getty Images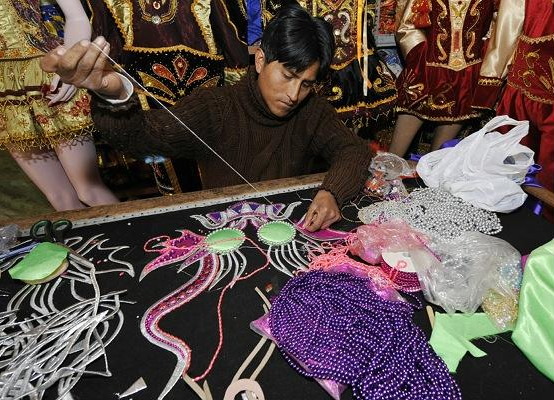 Throughout the celebration, the ubiquitous grimacing image of the devil is found everywhere, most notably on the colorful, fearsome horned masks worn by thousands of Carnival participants.
And among some 17 elaborate and intricate dances, the highlight is the "diablada" -- the dance of the devil -- a mock battle between good and evil, between Satan and his attending demons versus the Christian Archangel Michael.
The devil, referred to euphemistically here as "El Tio" or the uncle, is a central figure marrying elements from the indigenous and Christian cultures -- not just during the Carnival celebration, but in everyday life.
As with his counterpart in Christian theology, the devil in this Andean belief system lives in an underground realm.
But rather than being seen as a fallen angel to be shunned or feared, he is something akin to a patron saint of mine workers.
"When they enter the mines, workers venerate the devil -- known here as the 'uncle' of the mine -- to coax him to yield up more of the precious metals," Juan Aguirre, curator at Oruro's museum of anthropology, told AFP.
Aguirre said some miners even pray to him -- known familiarly as the demon "Supay" in this Andean culture -- asking that he keep them safe while they work underground.
So central is the devil to annual festivities that he has his own museum at Oruro, filled with masks, embroidery and art objects created in his honor.
Even the Virgin Mary has a netherworld incarnation here, where she is referred to as the "Virgin of the Grotto."
Richard Vega, 25, is a member of the Tinkus dance club, who works by day as an electrical engineer, but said he performs in his spare time for the Virgin of the Grotto, whom he credits with helping him complete his university studies a year ago.
"I am dancing out of devotion to "Mamita del Socavon" -- the Virgin of the Grotto," he said, or "kjachamosa" as she is called in the Quechua language.
Spanish invaders who conquered this land in the 17th century forbade the native Uru Indians from practicing many of their indigenous rituals.
But native people stealthily continued to worship indigenous gods in the guise of saints venerated by the Spanish conquistadors.
To this day, Andean deities and Catholic saints remain interwoven in the unique folklore that is put on dramatic display here each year at Carnival.
So remarkable is the annual celebration that in 2001 the Carnival of Oruro was designated a Masterpiece of the Oral and Intangible Cultural Heritage of Humanity by UNESCO.
Oruro's central plaza has been taken over a few evenings each week by participants rehearsing ahead of this week's procession, jumping, twirling, shouting and singing as they rehearse for the carnival procession, expected to draw hundreds of thousands of tourists.
And generally no expense is spared, even though Oruro is one of the poorest towns in one of the world's poorest countries.
Participants say it is not unusual for people to pay $300-$400 or more for their extravagant and coloruful costumes -- an extravagant sum in a country where the average per capita income is $1,300.
"We're talking between a thousand and twelve hundred dollars for one person -- sometimes even more -- to take part," anthropologist Juan Carlos Anez told AFP.
"That's a lot of cash for a country in the middle of an economic crisis," he said.