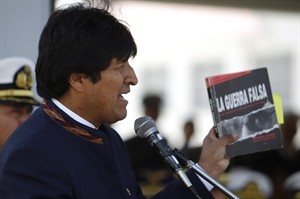 (above) Bolivia's President Evo Morales holds a book titled in Spanish "La Guerra Falsa," the Spanish translation of a book by former DEA agent Michael Levine, during a military ceremony in Paz, Bolivia, Thursday March 3, 2011. Morales, a former coca growers union leader who expelled U.S. drug agents three years ago, has promoted traditional uses of coca leaf while professing zero tolerance for cocaine trafficking. (AP Photo/Juan Karita)
Bolivian president: DEA not welcome back
March 3, 2011 - Associated Press (CP)

By The Associated Press (CP)
LA PAZ, Bolivia — President Evo Morales says he has no intention of inviting U.S. drug agents to return to Bolivia, despite failings in Bolivia's counternarcotics enforcement.
In 2008, Morales expelled all the roughly 30 agents the U.S. Drug Enforcement Administration had in Bolivia, accusing them of aiding his opponents.
Now, a DEA sting operation has ensnared the recently retired chief of Bolivia's anti-drug police. Rene Sanabria pleaded innocent in Miami Wednesday to charges he smuggled 100 kilograms of cocaine to the United States.
Morales told military officers on Thursday that as long as he's president, he will ensure Bolivia's "sovereignty and dignity are respected" — and that does not include submitting his police to DEA authority.
Copyright © 2011 The Canadian Press. All rights reserved.