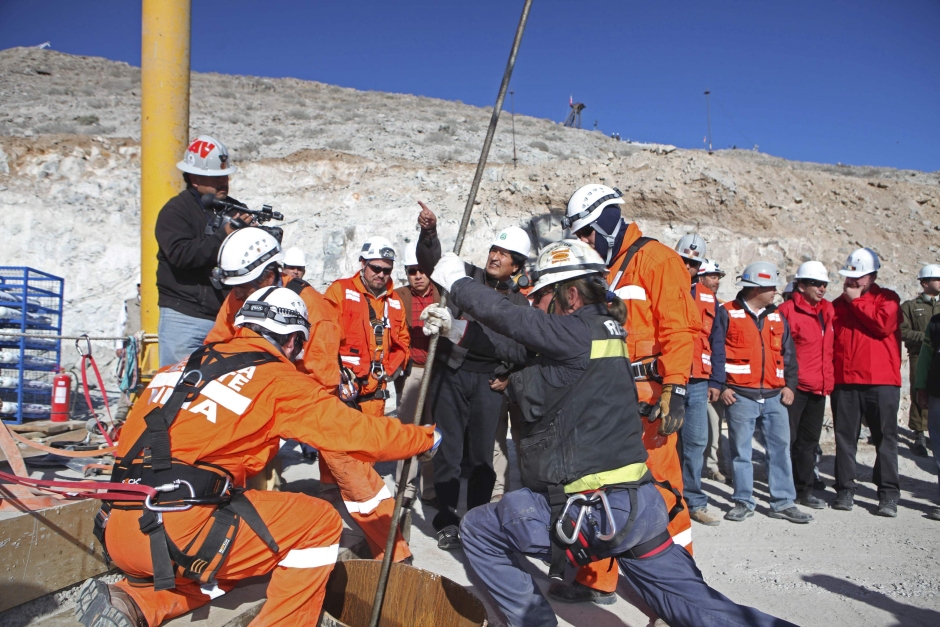 (above) Bolivian President Evo Morales watches as rescue workers help to rescue a miner. His government plans to nationalize mines in the country. (Photograph by: Reuters, Supplied Photo)

Bolivia plans to expropriate mines
April 13, 2011 - Bloomberg

Mines were sold to private interests by earlier governments

By Alex Emery, Bloomberg News
Bolivia's President Evo Morales plans to expropriate zinc, silver and tin mines sold off by previous governments, an official said.
Morales will announce a decree May 1 to "dismantle the privatization model," said Nicolas Fernandez, a spokesman for state mining company Corp. Minera de Bolivia, known as Comibol.
"The government is recovering all the privatized companies," Fernandez said today in a telephone interview from La Paz. "When the decision is taken, Comibol will be ready to manage these mines."
Comibol may rescind contracts with companies including Glencore International AG, Pan American Silver Corp., and Coeur d'Alene Mines Corp., La Paz-based newspaper La Razon reported today, citing Comibol President Hugo Miranda.
The government of then President Hugo Banzer sold off mining assets such as the Vinto tin smelter in 1999 in a drive to shed money-losing state companies and attract private investment. Morales seized the smelter from Glencore in 2007.
Morales took over gas fields and refineries on May 1, 2006 in a bid to increase state control over Bolivia's natural resources. Private investment in the industry plunged 69 percent to $271 million in 2009 from $865 million a decade earlier, according to state energy company YPF Bolivianos.
"Our property title is not subject to expropriation by the government," Coeur spokesman Tony Ebersole said in e-mailed comments to questions.
Glencore spokesman Simon Buerk declined to comment and Pan American spokeswoman Kettina Cordero didn't return telephone calls and e-mails seeking comment.
Bolivia produced 430,879 metric tons of zinc, 84,537 tons of lead, 19,581 tons of tin and 1.33 million kilograms of silver in 2009, according to the U.S. Geological Survey.
© Copyright (c) The Vancouver Sun