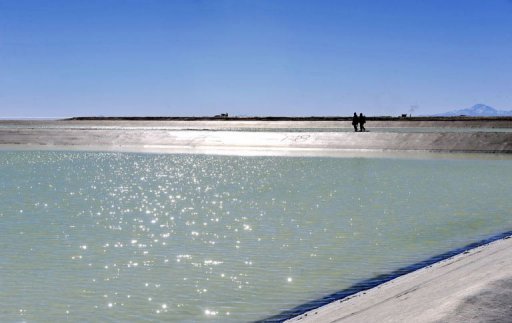 (above) People walk along brine pools in the world's largest salt flat of Uyuni in Bolivia (AFP/File, Aizar Raldes)

'Community tourism' means shearing llamas in Bolivia
August 1, 2011 - AFP
UYUNI, Bolivia — There's a new tourist draw at the Uyuni salt flats in southern Bolivia: visitors can stay with a local family to enjoy the spectacular vistas, then help out with shearing llamas.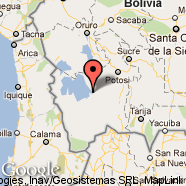 For $15 a day a foreign visitor can stay with a peasant family and live in a home without electricity, running water, or -- gasp -- Internet access. Outhouses are used as bathrooms.
"There is great interest in community tourism, to live with the people in the countryside, and even join them in their meals," said Rosa Perez, who heads the Uyuni regional tourism board.
"The communities have set up a few rooms with beds to be able to live with the visitors," she told AFP.
The Salar de Uyuni is the world's highest and largest salt desert, a blinding white expanse that stretches as far as the eye can see. The desert is 11,000 square-kilometer (4,200-square-mile) large, an expanse more vast than Lake Titicaca, the lake shared by Bolivia and Peru.
The salt flats are 3,600 meters (11,800 feet) above sea level in the Andes, at a height where it seems possible to reach up and touch the clouds.
Tourists have been visiting the Salar for years, but it wasn't until about five years ago that interest grew in extracting the 5.4 million tons of lithium -- around half the world's total supply -- found just below the surface. The soft metal is used in batteries for mobile telephones and computers, and is a key element for electric cars.
The impact of mining on tourism is still uncertain. In the meantime, tourists can stay with locals in places like Atulcha, Villamar and San Juan, all located around the salt flats.
Visitors can also join the locals in the annual llama shearing in August, or join llama caravans that travel to far-away villages taking blocks of salt to swap for corn, beans and potatoes.
"We wanted to come see the region," said Saeko Yuda, 50, an American of Japanese origin, who is leading a group of Japanese tourists.
The tourists "want to see something that is completely unusual for them," she told AFP.