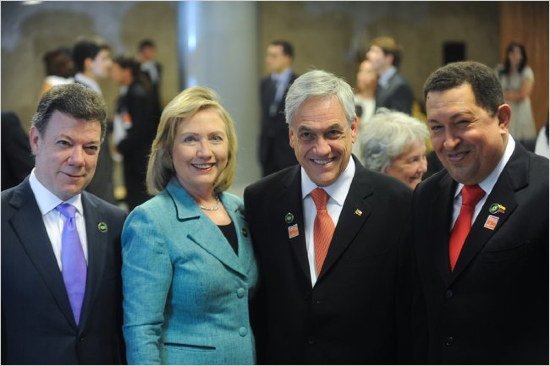 (above) Secretary of State Hillary Rodham Clinton with the presidents from Colombia, Juan Manuel Santos, left, from Chile, Sebastian Pinera, second right, and Venezuela, Hugo Chavez, during the investiture ceremony of the new Brazilian president Dilma Rousseff in Brasília in January. Photo: Fernando Bizerra Jr/European Pressphoto Agency

Clinton Aims to Improve Ties With Latin America
May 18, 2011 - New York Times
By GINGER THOMPSON and SIMON ROMERO
WASHINGTON -- As tumult rages across the Middle East, and relations with Pakistan border on a breakdown, Secretary of State Hillary Rodham Clinton was scheduled Wednesday night to host a private dinner with at least six former Latin American presidents, part of a quiet campaign to repair relations with a region that complains it has been ignored by American policy makers.
Secretary of State Hillary Rodham Clinton with the presidents from Colombia, Juan Manuel Santos, left, from Chile, Sebastian Pinera, second right, and Venezuela, Hugo Chavez, during the investiture ceremony of the new Brazilian president Dilma Rousseff in Brasília in January.
Diplomatic tensions have left the United States without ambassadors in Bolivia, Venezuela, Ecuador and Mexico. Free trade agreements long sought by Panama and Colombia -- two of the United States' closest allies in the region -- remain stalled by domestic political fights, while China has moved ahead of the United States to become Brazil's most important trading partner.
In Cuba, a State Department contractor remains in prison more than a year after he was detained for handing out satellite telephones as part of a semi-covert U.S.A.I.D. program aimed at undermining the Castro government. Haiti's reconstruction has been plagued by poor coordination. Honduras remains outcast from the Organization of American States after a coup in which troops forced a democratically elected president out of the country in his pajamas.
And the fight against organized crime in Mexico has failed to stem the violence that has left nearly 40,000 people dead, while drug trafficking organizations have expanded their brutal networks in Central America.
Although Mrs. Clinton's dinner with the former presidents of Mexico, Colombia, Brazil, Peru, Panama and El Salvador had been in the works for weeks, organizers said it coincided with her sense that years of neglect had resulted in missed opportunities in the region. It also coincides, analysts said, with the start of an American election season that is certain to hinge in some part on Hispanic votes.
Mrs. Clinton has made at least two speeches about Latin America in recent weeks, including one on Monday before a group of politically active Mexican-American leaders. And two weeks ago she accepted -- some say encouraged -- the resignation of her chief envoy to Latin America, Arturo Valenzuela, igniting soul-searching by diplomats and experts about the expectations for closer ties that were raised by President Obama's election, and why his administration had failed to achieve them.
Ted Piccone, a deputy director at the Brookings Institution, who helped the State Department arrange Wednesday's dinner for the six former Latin American presidents, said Mrs. Clinton had begun to "think about the kind of legacy she's aiming to leave" in the region. He said she had acknowledged that "the United States could be doing better," and had expressed a desire to "take things up a notch."
The outlook among the United States' neighbors is not all bleak, analysts said. Mrs. Clinton has traveled to Latin America more than any of her recent predecessors. On a number of occasions, she has brought every senior member of the cabinet along with her. Mr. Obama has met with seven Latin American presidents since February. He also made three trips to the region, and was criticized here for being in Brazil in March when he ordered airstrikes against Libya.
Dan Restrepo, Mr. Obama's senior adviser on Latin America at the National Security Council, said, "Our relationships with the major countries in the hemisphere are in good shape, as evidenced by the president's outreach in recent months."
But as the world gets smaller, less credit is given for miles traveled. "Lackluster," was the word several leaders in the region used in interviews to describe the administration's achievements in Latin America. The danger, they said, is that the lack of sustained engagement threatened to leave the United States on the sidelines as its neighbors enjoyed faster economic growth than any other region except Asia, and as democracies that once looked to the United States as a kind of political north star begin searching for others to help them set a new course.
"Nobody can deny the importance that China is having, more and more," President Juan Manuel Santos of Colombia said in a recent interview. "They are investing in Latin America. They are very attracted to Colombia because we have what they need, and for us this is music to our ears."
The more downbeat among diplomats and experts said that when it came to thinking about Latin America, Washington policy makers remained caught up in cold war paradigms. And they said that the Obama administration, mindful of political minefields, tended to tread lightly in situations that called for challenging the status quo, frustrating supporters and inflaming critics in almost equal measure.
There are powerful Republicans, like Representative Ileana Ros-Lehtinen of Florida, the chairwoman of the House Foreign Affairs Committee, who equate the administration's moves to loosen travel restrictions to Cuba -- reversing a policy that had been imposed by President George W. Bush -- as cozying up with tyrants.
In a telephone interview, Ms. Ros-Lehtinen accused the administration of "going along to get along."
Meanwhile, Senator John Kerry, a Massachusetts Democrat, has criticized the administration for not moving far enough away from Bush-era policies toward Cuba. In recent weeks, Mr. Kerry, the chairman of the Senate Foreign Relations Committee, ordered a hold on the $20 million U.S.A.I.D. planned to spend on Cuba programs this year, saying the programs had undermined American objectives more than they had weakened President Raúl Castro's grip on power.
"There continues to be a huge divide in views about Latin American policy," said Christopher Sabatini, senior director for policy at the Council of the Americas. "Part of that divide is driven by the administration's lack of leadership. The vacuum has allowed old wounds to fester, and reopen."
There was broad agreement among those interviewed that Mr. Valenzuela, who became close to Mrs. Clinton when he worked for President Clinton at the State Department and the National Security Council, was only a part of the administration's problem. State Department officials and Congressional aides described him as deeply knowledgeable about Latin American history, but poorly suited to lead the administration into the new realities of a hemisphere that is less financially and politically dependent on the United States.
In several Latin American countries, however, ideological battles have been superseded by the search for new commercial partners and markets. And some said the distance between the United States and its neighbors reflected the evolution of a region that now attracted large investment flows from other powers.
Mr. Restrepo, Mr. Obama's adviser, said that the president welcomed the shift away from the senior partner-junior partner dynamic. "Some people feel threatened by the growing independence of countries in the region," he said. "We see it as an opportununity to have stronger partners who we can work with to solve mutual problems in the hemisphere and beyond."
Myles Frechette, a former United States ambassador to Colombia, said the region was experiencing an era of "liberation" from American hegemony. And, he added, "When you get liberated, are you looking for another prison warden?"
Ginger Thompson reported from Washington, and Simon Romero from Caracas, Venezuela.