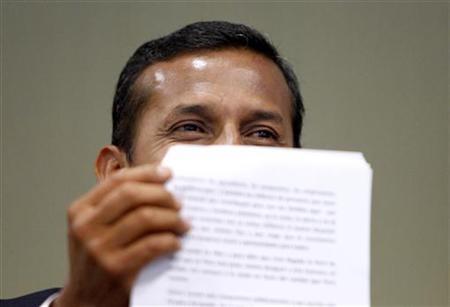 (above) Peru's presidential candidate Ollanta Humala shows a letter of promises to Peruvians during a news conference in Lima, March 28, 2011. Photo: REUTERS/Enrique Castro-Mendivil

Analysis: Two polarizing figures may meet in Peru run-off
March 30, 2011 - Reuters
By Patricia Velez and Caroline Stauffer
LIMA (Reuters) - The two most polarizing candidates in Peru's presidential race, Ollanta Humala and Keiko Fujimori, could face each other in a run-off vote as a moderate majority splinters among three other candidates.
In a tight five-way race before the first-round vote on April 10, polls show the left-wing nationalist Humala and the right-wing populist Fujimori nudging ahead, with the best chances of reaching the second round on June 5.
Investors fear Humala might unwind years of reforms in one of the world's fastest-growing economies, while Fujimori's critics worry she would show little respect for human rights.
Each has disapproval ratings of around 50 percent, the worst in the race.
Some analysts are urging mainstream voters to rally behind former President Alejandro Toledo, a committed free-trader known as "The Cholo" because of his indigenous roots, and drop support for former Lima Mayor Luis Castaneda and former Prime Minister Pedro Pablo Kuczynski.
"It's a very polarized scenario that would revive old antagonisms in Peru," said Julio Cotler, a sociologist at the Institute of Peruvian Studies. "I wouldn't be surprised if we see a third option emerge in the form of Toledo."
Humala leads the latest polls with about 21 percent support, about a point ahead of Fujimori and two points ahead of Toledo. Castaneda and Kuczynski are close behind.
(below) Peru's presidential candidate Keiko Fujimori talks to Reuters, as part of a Reuters Latin American Investment Summit interview, during a campaign rally in a shanty town in San Juan de Lurigancho, a district on the outskirts of Lima, March 29, 2011. Photo: REUTERS/Mariana Bazo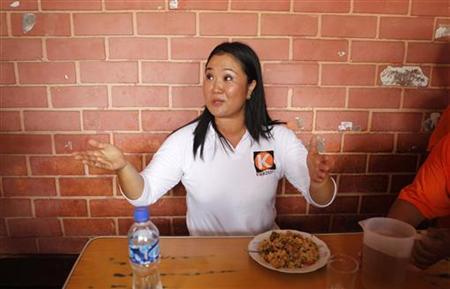 Pollsters say Toledo has the broadest support base, distributed among all social classes and regions. That suggests he could most effectively bridge Peru's nagging social divides, even though his popularity rating fell to less than 10 percent during his 2001-2006 term for frequent partying and his unwillingness to recognize a daughter born out of wedlock.
Toledo had a 10 point lead in the race a month ago, but fell to third place as wealthy voters abandoned him for Kuczynski, a former Wall Street banker, and as more poor voters switched to Humala, who competes with Toledo for the ethnic Andean vote.
DEMONIZING A MORE MODERATE HUMALA
Though Humala has sought to recast himself as a soft-left leader like Brazil's previous president, Luiz Inacio Lula da Silva, many voters regard him as a hard-liner with an authoritarian streak he developed while an army colonel. Humala's father and brother are also known as outspoken radicals.
Meanwhile, Fujimori is reviled by many because her authoritarian father, former President Alberto Fujimori, was convicted and jailed for human rights abuses and corruption. Though she supports market-friendly economic policies like her father, she also shares his strong arm approach to crime.
Toledo and Fujimori have sought to demonize Humala, who this week, in the most moderate speech of his political career, said he would respect the central bank's independence and Peru's growing number of free-trade pacts with countries like China and the United States.
"We've seen a change in his discourse, but his plan of government is the same," Fujimori told Reuters. "That would be a grand step backwards and would stop investment in the country."
Toledo, an economist, said Humala would rattle markets that fear government intrusion.
"It's time to choose between two roads: a market economy or a state-run economy," Toledo told reporters.
But some on Wall Street appear convinced by Humala's more moderate tone.
Moody's ratings agency told Reuters a Humala victory would not compromise Peru's investment-grade credit rating, while Capital Economics said his views appear "more center-left than left-wing extremist."
Others have said Humala's party would lack seats in Congress, putting him in a weak position to push through any big changes.
To improve his chances in an eventual second-round, some analysts say Humala should move further to the center and distance himself more from Venezuelan President Hugo Chavez, who endorsed his 2006 bid for the presidency.
Speaking in Buenos Aires on Tuesday, Chavez said he was "a friend of Humala" but "does not intervene in the internal affairs of other countries."
(Additional reporting by Teresa Cespedes and Marco Aquino; Writing by Terry Wade; Editing by Vicki Allen)