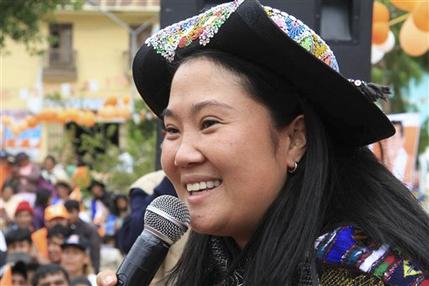 (above) In this photo released by the campaign office of Keiko Fujimori, presidential candidate Keiko Fujimori, daughter of Peru's former President Alberto Fujimori, wears traditional clothing as she campaigns for president in Huancavelica, Peru, Monday April 4, 2011. Peru's presidential elections are scheduled for Sunday. (AP Photo/Keiko Fujimori campaign office)
Daughter of disgraced president seeks to run Peru
April 6, 2011 - Commercialappeal.com

By FRANKLIN BRICENO and FRANK BAJAK
Associated Press
LIMA, Peru (AP) -- Keiko Fujimori was just a teenager when she became Peru's first lady after her president father divorced her mother.
Now she has a very real chance of becoming Peru's first female leader, campaigning with the complex legacy of the man who governed throughout the tumultuous 1990s before fleeing in a corruption scandal and faxing his resignation from Japan. Alberto Fujimori is perhaps Peru's most polemical figure, both widely admired and intensely reviled.
The 35-year-old daughter heads into Sunday's election with a strong shot at finishing second, which would qualify her for an early June runoff. No first-round candidate is expected to get the simple majority required to win outright.
Final pre-election opinion polls bunch Keiko Fujimori and two other candidates behind leftist former army officer Ollanta Humala.
Fujimori's Fuerza 2011 has a bedrock of unwavering supporters - about one in five Peruvians - who esteem her father for extracting the South American nation from a dual abyss: defeating the fanatical Maoist-inspired Shining Path rebels and taming runaway inflation.
For Adelmo Cubas Mejia, a 68-year-old subsistence farmer from the highlands town of San Andres de Cutervo, it was Alberto Fujimori who brought running water to his neighborhood.
"She'll be just like her dad," he said at a rally in Lima's Los Olivos district, where Cubas now lives with his children. "As for the others, who knows? ... She's a sure bet."
Addressing a rally of mostly poor, indigenous Peruvians outside a school built by and named for her father, Keiko Fujimori reminds the crowd that "under Fujimorism more than 3,000 schools were built across the nation" and boasts of its 45,000 public works projects.
She reminds voters of the "Glass of Milk" nutritional program still going in a country where one in three live in poverty and the economic boom of the century's first decade - produced by rising prices for metal and mineral exports - has hardly benefited the poor.
She makes no attempt to disassociate herself from her father, who was sentenced to 25 years in prison in 2009 for authorizing death squad killings. In the past, she has said she would pardon him if elected president. During the campaign, she has been cagey on the subject.
"The subject of my father will be resolved by legal means," she told the El Comercio newspaper in an interview published last weekend, referring to an appeal in progress.
There would be neither a candidate Keiko nor a Fuerza 2011 without the political mastermind who is Alberto Fujimori, analysts concur. Many believe that father calls the shots in daughter's campaign from the Lima police barracks where he's sequestered, though the Keiko Fujimori denies it.
Fuerza 2011 "isn't so much a party as a clan where the most important positions are distributed among relatives and allies," said Fernando Rospigliosi, a former interior ministry and inveterate Fujimori foe.
Keiko's brother Kenji, her uncle Santiago and her father's longtime publicist and personal physician are all running for Congress. Her staff is stacked with former members of her father's Cabinet.
The priorities of her campaign echo her father's as president, including a strong hand against criminals.
"If we defeated terrorism, we can certainly defeat crime," she has repeated often during the campaign.
Yet Peru's chief counterdrug prosecutor, Sonia Medina, told The Associated Press that she is concerned that Keiko Fujimori's campaign continues to receive support from the Martinez family, owners of the Hayduk fishing company in the port of Chimbote north of Lima.
One family member, Walter Martinez, is currently on trial for an alleged attempt to smuggle cocaine from a company warehouse in fish meal in 1993. His father was cleared three times of similiar charges, Keiko Fujimori has noted.
She acknowledges receiving $10,000 for her successful 2006 congressional campaign from a sister of Walter Martinez, and two congressional candidates in her Fuerza 2011 movement are being investigated for ties to traffickers.
Some Peruvian media also have questioned how her father paid for the U.S. college educations of his four children - a total of $1.2 million - when he earned less than $55,000 during his decade in office.
She told El Comercio that she has submitted all the pertinent documents to Congress and that the accusations of illegal enrichment are baseless.
"They had 10 years to find something and put me in jail. Why didn't they do that? They haven't arrived at anything," she said.
Peruvian Nobel literature laureate Mario Vargas Llosa, who lost to Alberto Fujimori in a run for the presidency in 1990, has compared the choice in a runoff between Humala and Keiko Fujimori to one between cancer and AIDS given Humala's vow of greater state intervention in the economy and Fujimori's close identification with her father's administration and its criminal abuses of power.
But Harvard political scientist Steven Levitsky, who has been living in Peru for the past nine months, believes that "for a number of people on the right, it's more like cancer versus a cold. They really worry about Humala because Humala is potentially authoritarian and he's also a statist.
"Keiko is potentially authoritarian but she's OK for the right on the economy."
Which means she could very well defeat Humala in a runoff.
© 2011 The Associated Press. All rights reserved.