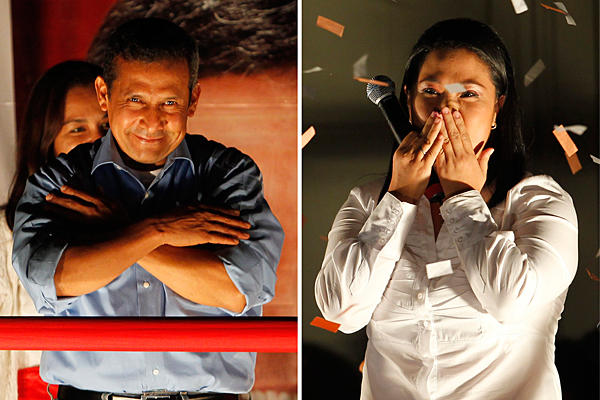 (above) Peru's presidential candidates Ollanta Humala (l.) and Keiko Fujimori celebrate the first round election results during late rallies in Lima, in this combination photograph, on April 10. Left-wing nationalist Ollanta Humala won the first round of Peru's presidential election on Sunday and rightist lawmaker Keiko Fujimori had a slim hold on second place with two-thirds of the vote counted, making them the likely rivals in a June 5 runoff. Photo: Pilar Olivares/Enrique Castro-Mendivil/Reuters



Click to go to: Gallery of Election Photos
The battle to become Peru's next president
April 11, 2011 - Christian Science Monitor
Analysts predict a tight June 5 runoff after this weekend's presidential vote. Left-wing candidate Ollanta Humala is expected to face Congresswoman Keiko Fujimori, daughter of the imprisoned former president Alberto Fujimori.
By Lucien Chauvin, Correspondent / April 11, 2011

Lima, Peru--- Peru's closely fought presidential election has come down to the final two.
The left-wing candidate in Peru's presidential election, Ollanta Humala, came out on top of the 10-candidate field Sunday and is now expected to face Congresswoman Keiko Fujimori in a tight June 5 runoff.
Mr. Humala, who only one month ago was in fourth place, had nearly 30 percent of the votes, with 75 percent of the ballots counted early Monday morning. Quick counts by major polling firms put his totals closer to 33 percent.
While Humala and Fujimori were the top vote-getters, they are also the candidates with the highest negative ratings, says Coletta Youngers, a senior associate at the Washington Office on Latin America, creating a potentially destabilizing scenario.
"This is going to be an extremely polarized vote. Two months is a long time, but today it would appear that Humala has the upper hand," says Ms. Youngers.
The runoff
This is Humala's second run for the presidency and the second time to come in on top in the first round. The tight runoff is also reminiscent of 2006, when Alan García beat Lourdes Flores Nano by a mere 60,000 votes to face Humala. Mr. García turned around and won the second round with nearly 53 percent of the votes.
The Humala-Fujimori runoff is likely to be as polarizing as it will be nasty.
Ms. Fujimori, the daughter for former President Alberto Fujimori, had 23 percent of the votes with three-quarters of the votes counted. She led the third-place finisher, Pedro Pablo Kuczynski, a former finance minister and World Bank economist, by three points. Peru's media has declared that the lead is too large for Mr. Kuczynski to squeak by her.
The recent frontrunners, former President Alejandro Toledo and former Lima Mayor Luis Castañeda finished with 15.2 and 10.8 percent of the votes, respectfully. Both men saw their support cut in half in the past month. The other five candidates in the race collectively polled less than 1 percent.
Humala, a former army colonel, is classified as a left-wing radical by his adversaries, including most of the mainstream press. One of his biggest pitfalls, for voters is his personal friendship with Venezuela's Hugo Chávez. Voter concern about those Chávez ties were brought up often among people waiting in line to vote on Sunday. Perhaps in response to such concerns, Humala told the foreign press on April 8 that he has no problems with Chávez, "but we do not accept the [Venezuelan] model."
Analysts say Ms. Fujimori needs to prove to voters that she is mature enough to govern – her age is mentioned often by voters – and, most importantly, that she will actually be the one to govern. A large percentage of voters polled say they fear that her father, who is serving a 25-year sentence on human rights and corruption charges, will be in charge if she wins.
Key voter issues
Pocketbook issues and security concerns, however, were what voters were talking about most on election day.
"This country needs urgent change. We need jobs and security. We don't even feel safe at home. You get mugged on your own street," says Angel Yarlaque, voting in Villa El Salvador, a Lima shantytown. "Humala is the only one who thinks about us," he adds.
In an adjacent polling station, Jasmin Mazur, says she voted for Fujimori, because he respected her father's efforts to help the poor when he was in office. "I believed in her father and now I believe in Keiko. She will do what is best for the poor," she says.
Next steps
Regardless of who faces Humala, energy will now turn to cobbling together political coalitions.
Fernando Tuesta, who heads the polling institute at Peru's Catholic University, said this race was based more on the individual candidates than parties or ideologies, so endorsing votes will not be easy.
"Voters are not going to listen to candidates when it comes time to vote in the second round. The winner will be whoever runs the best campaign, who gets the message to the voters," he says.