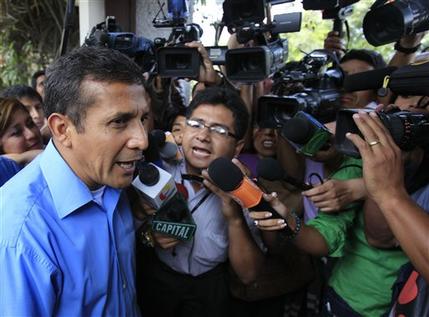 (above) Presidential candidate Ollanta Humala, left, talks with reporters at his father's home in Lima, Peru, Monday April 11, 2011. Unofficial results showed Humala won the most votes in Sunday's presidential race and is headed into a runoff against Keiko Fujimori, the daughter of imprisoned former President Alberto Fujimori. Peru will hold a presidential runoff election on June 5. (AP Photo/Martin Mejia)

Human rights sore spot for Peru runoff candidates
April 11, 2011 - JacksonSun
By CARLA SALAZAR and FRANK BAJAK
Associated Press
LIMA, Peru (AP) -- Peru found itself on Monday facing the very scenario many Peruvians dreaded: The two presidential candidates whose democratic credentials are most questioned - the daughter of jailed former President Alberto Fujimori and leftist military man Ollanta Humala - are headed for a runoff election.
The doubts begin with the fact that both have close relatives in jail for human rights violations which resulted in multiple deaths and are heightened by concerns that the issue has been barely raised by either candidate.
Clearly aware of such preoccupations, Keiko Fujimori immediately sought to assure Peruvians after Sunday's first-round vote that she had no intention of restoring the cynically corrupt, authoritarian regime of her disgraced father.
She promised "absolute respect for democracy, press freedom, human rights and the rule of law" after finishing second with 23 percent of the vote. Supporters soon drowned her out with chants of "Chino. Chino! Chino!" her father's nickname.
Humala, who led the voting with 31 percent, has also vowed to respect democratic institutions, but many Peruvians don't trust the former army officer. And many cringed when during a final campaign rally he said that if he wins the presidency "media directors will no longer set the news agenda, the people will."
The duo will be competing for support from the 44 percent of voters in Sunday's election who backed three less-polemical candidates.
That situation confirmed the fears of Nobel literature laureate Mario Vargas Llosa, who had warned Peruvians they would be forced to choose in the June 5 runoff between "AIDS and terminal cancer."
"There was a chance to embrace a moderate, middle ground, but that opportunity slipped away," said Michael Shifter, president of the Washington think tank Inter-American Dialogue. While rejecting "doomsday scenarios," he said that "the risks of some backsliding in economic policy and democracy have certainly increased."
In pre-election opinion polls, 50 percent to 60 percent of Peruvian voters said they would not under any circumstances vote for Keiko Fujimori or Humala.
Now, they have no other choice.
Humala, a 48-year-old former lieutenant colonel, has alarmed many by proposing that Peru's constitution be rewritten to help him boost state intervention in the economy so the poor can benefit from a mineral-exporting boom that has made this Andean nation's economy among the world's fastest-growing.
Peruvians also still remember Humala's declared admiration for Hugo Chavez in his first presidential run in 2006, though Humala this time dissociated himself from the leftist Venezuelan leader who has castigated opposition media and nationalized private companies.
He told foreign reporters last week that he would not join Chavez's ALBA bloc of leftist nations and that he would welcome counter-narcotics aid from any nation.
On Monday. he told a Colombian radio network that he would give "a new turn" to relations with Washington.
"We need to secure and strengthen our relations with the United States," he told RCN. "The United States is one of the most important commercial partners we have in Peru and, as such, we will make all effort to work hand in hand with the United States in a relation in which both can win."
Humala's had a strict military-style upbringing and his younger brother, Antauro, is serving a 25-year prison term for leading a violent revolt in 2005 against then-President Alejandro Toledo. Four police officers and two of Antauro Humala's followers died in the bloody taking of a highlands police station that sought to provoke a nationwide revolt.
Keiko Fujimori, meanwhile, became first lady in 1994 when her parents divorced. Her father's corrupt regime shut down Congress in 1992, used the courts against opposition media, paid off congressmen and profited from drug trafficking through intelligence chief Vladimiro Montesinos' extortion of narcos.
Her father, Alberto, is serving a 25-year prison sentence for authorizing two death squad massacres that killed 25 people, while Montesinos is serving a 20-year term for selling arms to Colombia's FARC rebels.
Keiko Fujimori, 35, said two years ago when her father was convicted that she would pardon him if elected, but she has hedged recently, saying she would leave his fate to the courts, where he is appealing.
The respected Peruvian investigative journalist Gustavo Gorriti says her father's government stole hundreds of millions of dollars from Peru's treasury.
"Do we want to see organized crime return to power?" he asked in a pre-election column.
Keiko Fujimori has a solid base of supporters who aren't concerned by such matters. They adore her father for taming runaway inflation and defeating the Maoist-inspired Shining Path rebels in a dirty war that claimed some 70,000 lives. Nearly half the rights abuses in that era were committed by security forces, according to a Peruvian truth commission.
Humala, who was on the front lines of that conflict, was accused five years ago of torturing and "disappearing" people in 1992 while commanding an army base in the jungle village of Madre Mia. One villager, Jorge Avila, said Humala detained him, his cousin and his sister and tortured them. He said he escaped but never saw the two relatives again. Avila later retracted his accusation, but there were claims he was paid off.
Human rights lawyer Gloria Cano told The Associated Press she finds it unsettling that the two candidates who got the most votes had the most questioned rights records and have "nevertheless not made clear their position on the subject."
Analysts say Keiko Fujimori is anything but a sure bet against Humala.
Humala has matured and moderated considerably since losing a runoff 53 percent to 47 percent in 2006 to current President Alan Garcia.
"The vast bulk of the media is going to get behind Keiko and the private sector is going to get behind Keiko. A good chunk of the political elite will get behind Keiko. The entire upper middle class of Lima will flock to Keiko," said Harvard political scientist Steven Levitsky, currently on sabbatical in Lima.
"I don't know if that's enough to win the election but it's going to be very close.
© 2011 The Associated Press. All rights reserved.