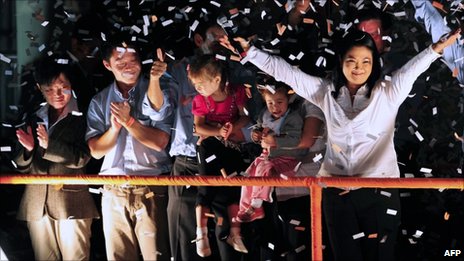 (above) Keiko Fujimori has been groomed for the role of president
Peru faces polarising election as populists face off
April 12, 2011 - BBC News
By Dan Collyns BBC News, Lima

With most votes counted in the presidential election in Peru, Keiko Fujimori - daughter of disgraced former President Alberto Fujimori - will join the leftist former army officer, Ollanta Humala, in a run-off vote on 5 June.
Mr Humala - who was endorsed by the Venezuelan President Hugo Chavez in his first presidential bid in 2006 - gained nearly a third of the vote, while Ms Fujimori came in second with around 23%.
Coming from opposite extremes of the political spectrum, both candidates ran impressive populist campaigns which promised a break from traditional politics.
But analysts say they came out on top because the centrist candidates split the moderate vote, particularly between former President Alejandro Toledo and his former Prime Minister Pedro Pablo Kuczynski, who were consumed in a bitter tit-for-tat row.
Mr Toledo's last-ditch overture to form a "democratic" truce was rejected by Mr Kuczynski, a 72-year-old former investment banker who came in third place with strong support in the capital Lima.
Between them they represent the democratic and human rights reforms which followed the end of Alberto Fujimori's autocratic government in the 1990s, and the orthodox fiscal and monetary policies which has helped make Peru's economy one of the fastest growing in the world.
'Choosing suicide or a miracle'
Now, after a decade of relative stability since Mr Fujimori left power in 2000, there is volatility, and not just in the financial markets.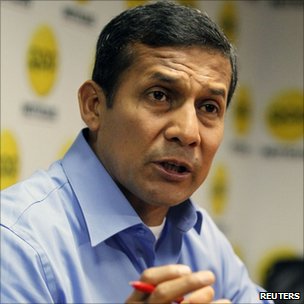 (left) Ollanta Humala says he does not want to interfere with Peru's successful economic model
Voters must choose between the two candidates who appear most divisive. In pre-election polls half of Peruvians said they would never vote for either Mr Humala or Ms Fujimori.
Before the election, Peru's Nobel prize-winning author Mario Vargas Llosa described the possible second-round scenario between Mr Humala and Ms Fujimori as like choosing between cancer and Aids. With the option confirmed, he said Peruvians now had a choice between "suicide and a miracle".
But Mr Humala, 48, has worked hard to placate fears he would nationalise industries and interfere with the inflow of billions of dollars in foreign investment, particularly in the mining sector.
"Peru has changed and I've changed," he told reporters.
He has repeatedly said he does not want to interfere with Peru's successful economic model - respecting free-trade agreements and central bank independence - but he has proposed a 30% rise in taxes on the profits of mining companies and has said he would seek to change the constitution.
The cornerstone of his campaign - a fairer distribution of Peru's riches - has resonated with Peruvians across the country. In the first round vote, he won in 19 of Peru's 24 regions.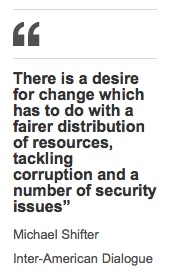 There is a desire for change which has to do with a fairer distribution of resources, tackling corruption and a number of security issues"
End Quote Michael Shifter Inter-American Dialogue
Although poverty has dropped substantially in Peru in recent years, one in five Peruvians lack access to running water. Access to healthcare and basic services is patchy and a fifth of children are malnourished.
"There is a desire for change in Peru which has to do with a fairer distribution of resources, tackling corruption and a number of security issues," says Michael Shifter, president of the Inter-American Dialogue, a US-based think tank.
"But I don't think there's reason to believe there's a Chavez-like scenario" - a reference to wholesale nationalisation under President Hugo Chavez's "Bolivarian revolution" in Venezuela.
"If Mr Humala tries to bring through those kind of changes, he will fail," Mr Shifter said.
He added that Mr Humala had "notably moderated his message and style". His energetic campaign has focused on day-to-day issues like pensions for the elderly, an increase in the minimum wage and day-care programmes in poor neighbourhoods.
Alliances
Not to be outdone, Ms Fujimori added free school uniforms and textbooks to the list of electoral pledges.
The 35-year-old has openly invoked her father's image in her campaign - Alberto Fujimori remains popular among many poor voters who remember his low-income housing programmes and soup kitchens.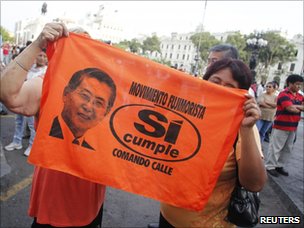 (right) Ms Fujimori has openly invoked her father Alberto's image in her campaign
She has counted on the solid support of one in five Peruvians. They credit Alberto Fujimori with defeating the twin evils of hyperinflation and left-wing guerrillas in the 1990s.
In 2009, he was convicted on multiple corruption charges and of ordering a death squad to carry out two massacres in which 25 people were killed.
His daughter, who has been groomed for the presidential role since her father named her his First Lady aged just 19, has vowed to respect human rights. But many suspect she would release her father and his associates from jail if elected.
Her chance of success relies heavily on how many voters she can convince that Mr Humala is a "wolf in sheep's clothing" - as she has described him - who would jeopardise Peru's progress.
"Her father's government ended in trauma for Peru and there is a lot of resistance to bringing that back," says Mr Shifter.
Alliances will now be crucial to both candidates' campaigns. Both candidates have said they are open to dialogue.
Mr Toledo, who dropped from a three-month lead in the polls to fourth place in the vote, has offered to join forces with Mr Humala.
In accepting his defeat, the former president said voters had "expressed their rage... at having economic growth without the distribution of the benefits of that growth".
That, combined with a fragmented political scene, has led to one of the most polarising elections in decades.
"It's the great paradox and puzzle of Peru," says Mr Shifter. "The economics has moved on but the politics got stuck."