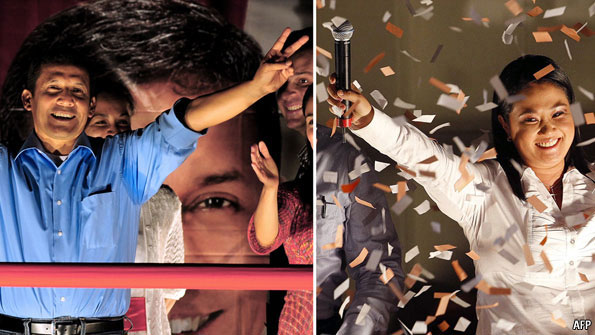 (above) Voters engineer an unappealing choice between two contrasting populists, Ollanta Humala (below left) and Keiko Fujimori (right)
Peru's presidential election
The masses blow a raspberry
April 14, 2011 - Economist
LIMA | from the print edition

IT IS hard to think of two politicians less attractive or qualified to run a country of 29m. But the outcome of a presidential election on April 10th means that Peruvians will have to choose in a run-off on June 5th between Ollanta Humala, a former army officer with no government experience backed by the far left, and Keiko Fujimori, whose father is a conservative ex-president serving a 25-year sentence for human-rights abuses and corruption.
Both Mr Humala, who won 32% of the vote, and Ms Fujimori (23.5%) embody a vein of populist authoritarianism running through Peru's history. They harvested a protest vote against the moderate democratic politicians who have governed the fastest-growing of Latin America's larger economies over the past decade, but who have failed to curb corruption and crime or do enough to improve social conditions.

The democratic centre-right vote added up to 44%, but was fatally split between a trio of candidates. Alejandro Toledo, the president in 2001-06, led the polls with 28% six weeks ago, but took just over half as much in the election. Pedro Pablo Kuczynski, who served as finance minister under Mr Toledo, stressed reform within the existing free-market economic regime and managed 18.5%, with his support concentrated among wealthier voters in and around Lima (see map). That was not bad for a former investment banker and IMF official, but not enough. Luis Castañeda, a former mayor of Lima, took 10%.

In the 2006 election Mr Humala won 31% of the vote in the first round, only to be narrowly beaten by Alan García, who has governed as a conservative. Then Mr Humala was close to Venezuela's Hugo Chávez. He looks better placed this time: Ms Fujimori is a less skilful rival than Mr García, and Mr Humala has moved towards the centre. His inspiration now is Brazil's former president, Luiz Inácio Lula da Silva, whose Workers' Party has offered him advisers. As Lula did before him, he has swapped his red T-shirt for business suits.
Mr Humala once talked of expropriating foreign mining and gas companies and creating new state enterprises. By the end of the campaign he sounded almost like Mr Kuczynski. He talked of legalising Peru's vast informal economy, negotiating higher taxes on mining and improving schools. But if Mr Humala is to allay suspicion about his plans among two-thirds of the electorate, he must repudiate his far-left written manifesto, drop talk of changing the constitution—the formula used by Mr Chávez to cling to power—and promise to appoint competent technocrats.
If Mr Humala arouses fears for the future, Ms Fujimori awakens fears of the past. Her father, Alberto Fujimori, defeated the Maoist terrorists of the Shining Path and implemented free-market reforms that laid the foundations of Peru's boom. But he used tanks to shut down Congress, rode roughshod over the constitution and presided over systematic corruption. His daughter has played down an earlier pledge to seek an amnesty for him. She promises continuity in economic policy mixed with social giveaways and illiberal talk of using the death penalty and anti-terrorist laws against crime. She may win the backing of many better-off Peruvians.
If Mr Humala eventually wins, in what remains a tight campaign, it will hardly amount to a triumphant leftist wave of the sort that propelled Bolivia's Evo Morales to power in 2006. His party will have only 46 seats in the 130-strong Congress. The constitution gives the Central Bank independence. Free-trade agreements with the United States, the European Union and China place limits on economic change. And, as Mr Humala's Brazilian advisers may point out, one secret of Lula's success was his decision to respect existing contracts and not reverse his predecessor's privatisations.
But the single-minded pursuit of foreign investment and economic growth that marked Mr García's presidency now seems to be drawing to an end. Many Peruvian democrats will have nightmares in the coming weeks. A generation ago Peru's social fabric was rent apart by economic collapse and political violence. Around two-thirds of Peruvians still work in the informal economy. Although life has improved in the past decade, many are still susceptible to the appeals of would-be saviours—and there is more money to be grabbed to finance a bid for elected autocracy. The democrats will have to work hard to ensure that whoever wins on June 5th leaves promptly five years later.