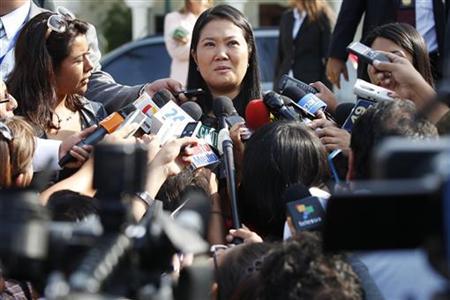 (above) Peru's presidential candidate Keiko Fujimori speaks to the media after a meeting with Mexican President Felipe Calderon in Lima April 28, 2011. Credit: Reuters/Enrique Castro-Mendivil

Peru election race tightens to tie
April 29, 2011 - Reuters
By Patricia Velez and Marco Aquino
LIMA (Reuters) - Right-wing lawmaker Keiko Fujimori pulled into a statistical tie with left-wing nationalist Ollanta Humala, a poll showed on Friday, as they wooed undecided centrist voters whose support will define the presidential election.
Investors betting that Fujimori could win the June 5 vote pushed Peru's stock index 3.4 percent higher. It was the second straight day of strong gains and came after weeks of heavy selling.
Humala has moderated his hardline tone since narrowly losing the 2006 election, but he still unnerves investors who fear he could roll back years of free-market reforms introduced two decades ago by Fujimori's father, jailed former President Alberto Fujimori.
Before the current rally, the stocks index had fallen 22 percent over the past few weeks, wiping out about $18 billion in value, according to the Maximixe brokerage.
Humala, a former military officer who says more must be done to spread the benefits of growth to the third of Peruvians living in poverty, has tried to calm investors by promising to keep inflation low, run a balanced budget and respect the country's many free-trade pacts if elected.
Investors trust Fujimori, who has a graduate degree in business from Columbia University in New York. But many voters dislike her because she served as first lady under her authoritarian father.
Despite his overtures, Humala has been hammered in the local press over discrepancies between his official campaign platform and his increasingly moderate public persona. Peruvians have been outraged by one of his proposals, which would use private pension funds to finance a government-run retirement system for people over 65.
In response to the criticisms, Humala has said private pensions would be safeguarded, added technocrats to his campaign team, and suggested he may revise his platform.
"We don't have a monopoly on truth and we are willing to accept and correct what needs to be corrected when we make mistakes," Humala said after meeting with leaders of Peru's biggest business chamber, Confiep, for the first time on Friday.
"We recognize that Peru has had strong, sustained growth that needs to be maintained."
Peru's economy grew 9 percent last year and has boomed for much of the last decade.
FUJIMORI DISTANCES HERSELF FROM FATHER
The latest survey, conducted by local pollster Datum and published in the newspaper Peru 21, showed Humala with 41.5 percent support and Fujimori at 40.3 percent. The margin of error was 2.8 percentage points.
The narrow gap in the Datum poll, at only 1.2 points, showed the race has tightened in the last few days.
A CPI poll published on Thursday indicated the gap was just 3.8 points, compared to a 6-point gap in a poll published on Sunday by Ipsos and an 8-point gap that separated them in the first-round vote on April 10.
Pollsters say the election will hinge on the each candidate's ability to win over nearly a fifth of voters who are undecided or plan to abstain.
The Datum poll of 1,200 people, conducted April 25-27, also showed 75 percent of voters prefer a market-based economy to ones based on central planning.
Datum Director Manuel Torrado said Fujimori's rise in polls was partly due to a public apology she made last week for her father's excesses.
The elder Fujimori was credited for ending hyperinflation and opening the economy, but was imprisoned for corruption and human rights crimes stemming from his crackdown on insurgents.
She said her father's 1990-2000 regime "was not a dictatorship like many people think, but was authoritarian."
Analysts said those comments aimed to ease fears she would show little respect for human rights or democracy if elected.
On Friday the younger Fujimori took another step to distance herself from her father. His regime was widely blamed for corrupting the local media by bribing journalists.
"An independent and pluralistic media is essential for a free, open and transparent society, and for economic health," she said in an address to Ipys, a Latin American press club.
(Reporting by Patricia Velez; Writing by Terry Wade; Editing by Xavier Briand)