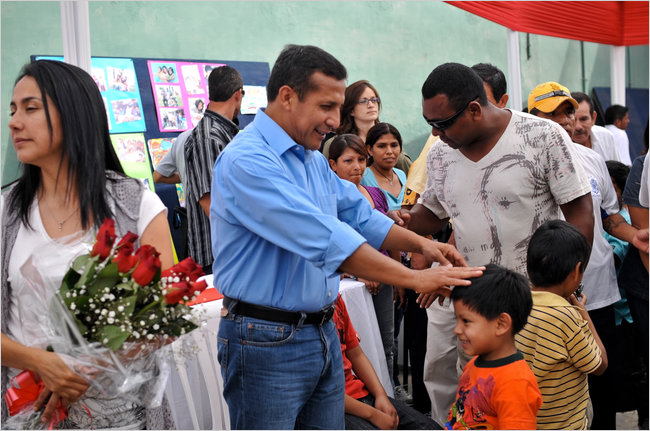 (above) Ollanta Humala, the leader in Peru's presidential race, picked Brazil over Venezuela as a guide. Meridith Kohut for The New York Times
Slide show of Photos: Walking a Tightrope Between Nationalist and Populist
A Candidate in Peru Tacks Toward Brazil's Course
April 30, 2011 - New York Times

By SIMON ROMERO
LIMA, Peru — In his failed 2006 bid for Peru's presidency, Ollanta Humala donned red T-shirts, boasted of plans to assert state control over energy resources and blasted opponents for warming to the United States, using elements from the playbook that was then helping propel leftist political allies of Venezuela to electoral victories in Latin America.
But in a transformation this year that points to the eclipse of Venezuela by Brazil, Mr. Humala has swapped the red shirts for dark suits, explicitly rejected talk of seizing private companies and celebrated Brazil's market-oriented economic model, while distancing himself from Venezuela's president, Hugo Chávez.
Mr. Humala, 48, made the shift after hiring Brazilian campaign advisers tied to Brazil's governing Workers Party. Now, in a surprise to Peru's establishment, whose candidates split the vote in the first round in April, the strategy has helped make Mr. Humala, a former army officer who led a military revolt in 2000, the front-runner in polls in a tight race with Keiko Fujimori.
"The Venezuelan model is not applicable to Peru," Mr. Humala said bluntly in a wide-ranging interview at his home here. If he is elected, he said, Peru will not join the Bolivarian Alliance for the Americas, or ALBA, the Venezuelan-led political bloc that includes Bolivia, Cuba and Nicaragua.
In contrast, Mr. Humala repeatedly praised Brazil and Brazilian companies, which are major investors in Peru's mines, steel industry and hydroelectric projects, and the new Interoceanic Highway connecting western Brazil to Peru's Pacific coast. All together, Brazilian investment here could climb above $30 billion over the next decade, according to the Brazil-Peru Chamber of Commerce and Integration.
"The Brazilian experience has delivered success and results by respecting freedom of the press, the adequate management of the macroeconomy, monetary stability," Mr. Humala said. "Brazil has combined economic growth with social inclusion."
Ahead of the June 5 runoff election, doubts surrounding Mr. Humala have accentuated a notable schism within Peru's conservative elite.
Fearing a return to the authoritarianism and generalized corruption of the government of Ms. Fujimori's father, Alberto Fujimori, who is jailed here after being convicted of human rights abuses, the Nobel laureate Mario Vargas Llosa said he preferred Mr. Humala, "unhappily and with fear," over Ms. Fujimori, who has surrounded herself with her father's old advisers. (In recent days, Ms. Fujimori has also spoken glowingly of Brazil's economic and social policies.)
Prominent figures like Archbishop Juan Luis Cipriani of Lima have since lashed out at Mr. Vargas Llosa, Peru's leading intellectual, for supporting Mr. Humala, and the established news media have mounted a barrage of coverage critical of his candidacy.
Undaunted by the controversy, Mr. Humala, speaking in a measured tone for more than 90 minutes in his spacious home, insisted that his transformation was genuine. But his family figures in this election, too.
Ollanta Humala has publicly disavowed the thinking of his father, Isaac Humala, a lawyer who espouses an ultranationalist ideology that calls for the supremacy of "copper-skinned" Peruvians, and the candidate said his own ideas were merely "nationalist in the context of consolidating the Peruvian nation."
"Peru has changed, so we politicians must also change," he said, referring to Peru's recent economic boom. "Politicians cannot keep seeing ghosts, keep seeing cold wars and past schemes."
Calling the United States a "brother country," Mr. Humala further distanced himself from Venezuela's president by saying he wanted to "qualitatively improve" ties with Washington, partly by engaging in a cooperative fight against drug trafficking in Peru, which is grappling with soaring cocaine production.
"We must work hand in hand," Mr. Humala, dressed in a white shirt and jeans, said of Peru and the United States and of plans to strengthen ties with the Drug Enforcement Administration, which Venezuela and Bolivia have expelled. "We need to improve our intelligence cooperation."
For Mr. Humala, who took 31.7 percent of the vote in the first round against 23.6 percent for Ms. Fujimori, it has been a struggle to lure middle-class voters in Lima and other cities to his side. His plan to raise taxes on mining companies to finance social programs appeals to poor voters in the mountain regions and tropical lowlands, but fears over his controversial past as a military officer, and doubts about his nationalist statements in the not-so-distant past, have many on edge.
"He isn't what he intends to portray," said Claudia Carrillo, 37, a secretary here. "Even if you burn a chicken's beak, they'll continue pecking."
Mr. Humala still chafes at criticism of the military uprising he led in 2000, calling it an "insurgency" instead of a "rebellion." Another episode that haunts Mr. Humala involves claims that he disappeared and tortured civilians while stationed at the Madre Mía counterinsurgency base in 1992 during the war against the Maoists of the Shining Path.
Human rights researchers found evidence implicating Mr. Humala, who operated at the time with the nom de guerre "Capitán Carlos," in three cases of torture and in five disappearances, but Peruvian judicial authorities shelved their investigation after witnesses contradicted their own testimony.
Mystery still shrouds what happened at Madre Mía, after a military official was accused of bribing a witness in the case to retract his testimony. "I defended my country with honor," Mr. Humala said when asked about his time as Capitán Carlos. "Justice proved my innocence."
Mr. Humala's family has also aroused doubts among some voters, especially over whether his recent distancing from Venezuela is merely cosmetic. He acknowledged that his wife, Nadine Heredia, had received a monthly stipend from a Venezuelan company. News media here reported that she got $4,000 a month from The Daily Journal, a now defunct Caracas newspaper.
"That's all in the past, and the amount was no great thing," Mr. Humala said.
Concerns over both Mr. Humala and Ms. Fujimori, 35, have many here trying to decipher which candidate poses fewer risks for Peru's institutions, which remain fragile a decade after the collapse of Mr. Fujimori's government and after centuries of exclusion. (The Constitution did not grant illiterate Peruvians the right to vote until 1979.)
"From the standpoint of liberal democracy, this is a terrible place to be," said Steven Levitsky, a Harvard government professor who is teaching in Lima this year. Still, he said that Mr. Humala, whether wanting radical change or not, might face greater pressure from segments of society that oppose him than would Ms. Fujimori, who draws greater support from the news media and political and business sectors.
"It's plausible that Humala won't be like Chávez or Lula," said Mr. Levitsky, referring to Venezuela's leader and Luiz Inácio Lula da Silva, Brazil's former president. "He could be more similar to Fernando Lugo in Paraguay," another South American country where Brazil's influence is growing, "an outsider who ended up moderating a lot."
Still, choosing between Mr. Humala and Ms. Fujimori remains a dilemma for many voters, making the race Latin America's most closely followed election this year.
"Both are so bad that they are a total disappointment," said Hugo Flores, 58, a refrigerator salesman. "But if that's what the people want, that's what they'll get."
Andrea Zarate contributed reporting from Lima.