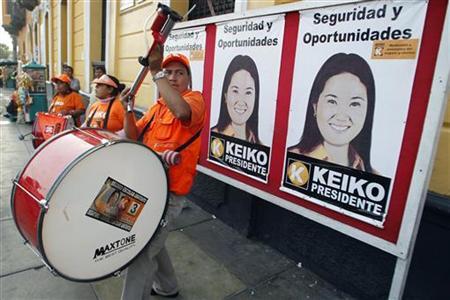 Right-wing Keiko Fujimori leads race in Peru polls
May 23, 2011 - Reuters

LIMA (Reuters) - Right-wing lawmaker Keiko Fujimori holds a lead over left-wing Ollanta Humala just two weeks before Peru's June 5 presidential election, but pollsters say the race could still be won be either candidate.
In a CPI poll published early on Monday, the daughter of jailed former President Alberto Fujimori, had 53.7 percent of the vote while Humala had 46.3 percent when null and spoiled ballots were excluded in a mock vote.
Another pollster, Ipsos, said its mock vote showed Fujimori had 51.4 percent of the vote to Humala's 48.6 percent. Survey firm Datum's mock vote said Fujimori would get 52.4 percent of the vote and Humala 47.6 percent.
Humala has sought to convince voters that he has abandoned his radical past, while critics fear that if elected he might roll back years of free-market reforms in Peru's booming economy.
Fujimori is backed by the business community, though many voters associate her with the corruption and human rights abuses that caused her father's authoritarian regime to collapse in 2000.
"Nothing is decided -- the gap between them is very small," said Ipsos pollster Alfredo Torres. "Anything could still happen."
Fujimori saw her lead in the Ipsos and CPI polls widen slightly, though it narrowed a bit in the Datum poll. CPI said Fujimori has a 20-point lead in Lima, the comparatively wealthy capital, while Humala has a five-point lead in the provinces.
When the same pollsters included undecided voters in their counts, the surveys show around 13 percent of Peruvians do not plan to vote for either candidate or do not yet know who they will vote for.
The two candidates will face each other in a televised debate next Sunday. In previous appearances, Humala has been criticized for looking down while reading his notes instead of speaking to the audience.
"The momentum favors Keiko but nothing is decided," said Manuel Saavedra of CPI. "The debate will be decisive."
Humala has revised his government plan to make it more attractive to investors, dropping a controversial tax increase and a proposal to take over private pension funds.
To woo centrists, he has tried to distance himself from his former political mentor, fiery Venezuelan President Hugo Chavez, and recast himself as a moderate like Brazil's popular former president, Luiz Inacio Lula da Silva.
But Fujimori has overtaken him in recent weeks in opinion polls, relieving downward pressure on financial markets, which were stable on Monday. Peru's stocks and currency plunged after Humala won the first-round vote on April 10, though they have since recovered.
Fujimori's opponents say she is too close to her father and too reliant on his former aides. Her father's regime haunts many Peruvians, though he is credited for opening the economy to trade, ending hyperinflation, and defeating guerrillas.
Humala says his brand of nationalism would strengthen a weak state to make sure the benefits of economic growth reach all Peruvians, not just local elites or foreign firms. A third of Peru's 30 million people still live in poverty.
Despite Humala's pledges to be conciliatory, some members of his Nationalist Party shun international cooperation and advocate a brand of ethnic nationalism that harks back to Peru's Inca past and seeks to turn the country's back on the global economy.
The Ipsos poll of 2,000 people was conducted May 14-20 and has a margin of error of 2.2 points. The Datum poll of 5,004 people ran May 16-18 and the margin of error was 1.4 points. CPI's margin of error was 1.85 points in the survey of 2,790 people was conducted May 17-21.
(Reporting by Terry Wade and Marco Aquino; Editing by Eric Walsh and Philip Barbara)