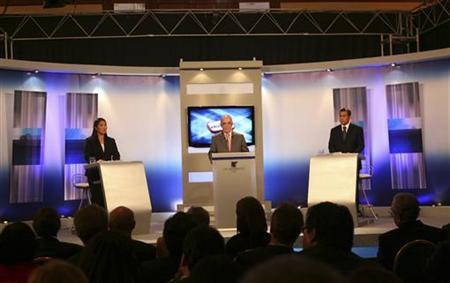 (above) Candidates debate.

Peru candidates tussle in debate as race tightens
May 30, 2011 - Reuters
* Race is too close to call a week before election
* Tough personal attacks in televised debate
By Patricia Velez and Terry Wad
LIMA (Reuters) - The two candidates in Peru's tight presidential contest traded barbs in a heated televised debate a week before the election, each trying to paint the other as bad for democracy.
Right-wing lawmaker Keiko Fujimori said she thought leftist Ollanta Humala would seek radical changes that could hurt the fast-growing economy, or revise the constitution to allow him to run for consecutive terms.
"Why change the constitution? Why revise free trade pacts? Which of the campaign plans will Commander Humala use? These moves back and forth generate a lot of instability," Fujimori said in their first and only debate on Sunday night.
For his part, former army officer Humala linked Fujimori to her father's government, which collapsed amid corruption and human rights scandals in 2000 after a tough crackdown on guerrillas. Former President Alberto Fujimori was later sentenced to 25 years in prison.
"Human rights violations, the persecution of the opposition, illicit arms trafficking -- this is the regime that wants to reinstall itself in power," Humala said.
Sunday's debate reflected a race that has become increasingly heated and based on personal attacks.
Three polls released the same day showed the younger Fujimori narrowly leading Humala by between 1 point and 4.6 points before the June 5 vote.
Fujimori, 36, served as Peru's first lady in the 1990s after her parents separated. Her father was credited for opening the economy to trade and taming hyperinflation, but his powerful intelligence chief, Vladimiro Montesinos, was imprisoned after being convicted of arms trading, among a raft of other charges he faced.
To woo centrists, Humala, 48, has tried with limited success to distance himself from his former political mentor, Venezuela's socialist president, Hugo Chavez, and recast himself as a moderate like Brazil's popular former president, Luiz Inacio Lula da Silva.
Humala, who once led a bloodless insurrection to demand the elder Fujimori step down, has promised to manage the surging economy prudently, though critics fear he would roll back years of free-market reforms.
Peru's currency, the sol, and stocks plunged after Humala won the first-round vote on April 10 as investors worried he would intervene in the economy and hurt private investment. Financial asset prices later recovered as Fujimori rose in polls.
Humala has revised his government plan to make it more attractive to investors, dropping a controversial tax increase and a proposal to take over private pension funds.
Humala has also said he would respect international accords and serve only one term.
In an Ipsos poll Sunday, Fujimori had 50.5 percent of the vote while Humala had 49.5 percent when null and spoiled ballots were excluded from a mock nationwide vote.
In another mock vote, by CPI, Fujimori had 51.8 percent and Humala had 48.2 percent. Fujimori had a larger lead in a poll by Datum, getting 52.3 percent of the vote to Humala's 47.7 percent. Ipsos and CPI cautioned that the two were technically tied given each poll's margin of error, though Datum said Fujimori was clearly ahead.
(Additional reporting by Teresa Cespedes and Marco Aquino; Editing by Doina Chiacu)