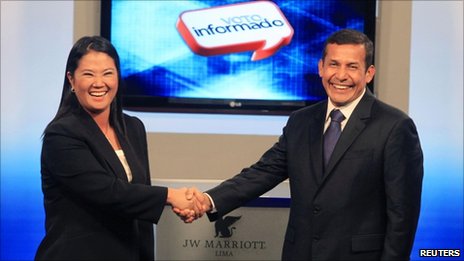 (above) Smiles for the cameras but the election race is being bitterly contested
Peru election: Humala and Fujimori debate in tight race
May 30, 2011 - BBC News
Peruvian presidential candidates Keiko Fujimori and Ollanta Humala have cast one another as bad for the country with a week to go to the second round vote.
In a televised debate, Ms Fujimori accused her rival of creating uncertainty by considering changes to the constitution and trade deals.
Mr Humala recalled the corruption and human rights abuses of the government of her father, Alberto Fujimori.
Opinion polls give Ms Fujimori a slight lead ahead of the 5 June election.
No candidate gained the 50% needed to secure victory outright in the first round in April, pitting the two front-runners, Ms Fujimori and Mr Humala, against one another.
Sunday's debate, their first and only, saw the two going on the attack.
Ms Fujimori, 36, said Mr Humala, a former army colonel, had repeatedly changed his plans for government.
"Why change the constitution? Why revise the free trade accords? Which of his campaign plans will Commander Humala use? This back and forth is generating a lot of instability," she said.
'Not my father'
For his part, Mr Humala, 48, reminded voters of the track record of President Fujimori's government.
"When Fujimori left office in 2000, when the congresswoman was first lady, he left the economy in recession... he left 54% of Peruvians in poverty, he caused the bankruptcy of 23,000 businesses and the ruin of a million farmers. This is the government that Ms Fujimori defends with pride," he said.
During his time in power from 1990 to 2000, Alberto Fujimori tackled the Shining Path guerrillas and ended hyper-inflation.
But human rights abuses committed by his administration landed him with a 25-year prison sentence.
Ms Fujimori, who became first lady after her parents separated, has defended her father's record, saying that he laid the basis for Peru's current economic boom.
But on Sunday, she emphasised her own independence.
"I'm the candidate, not Alberto Fujimori. If you want to debate with me, challenge my ideas; if you want to debate with Alberto Fujimori, you can go if you want to Diroes (prison) where he is being held," Ms Fujimori said.
Mr Humala first came to prominence in 2000 when he led a short-lived military rebellion against President Fujimori.
He came second to current President Alan Garcia in the 2006 election.