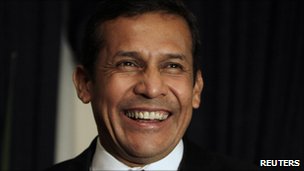 (above) Ollanta Humala will be inaugurated at the end of July

Peruvian President-elect Humala may pardon Fujimori
June 12, 2011 - BBC News
Peru's President-elect Ollanta Humala says he would pardon former President Alberto Fujimori on humanitarian grounds if his health worsens.
Mr Humala told Peru's El Comercio newspaper that "nobody should die in prison, except people serving life sentences for abusing children".
Fujimori is serving a 25-year sentence for corruption and ordering killings by the security forces.
He has been taken to hospital, suffering bleeding in his mouth.
Doctors fear this might be linked to a recurrence of his tongue cancer.
Mr Fujimori's doctor says he has also lost a lot of weight - some 15kg (33lb) - recently.
Contentious issue
The contentious issue of whether Mr Fujimori should be granted a pardon was raised during the closely-fought presidential run-off between Mr Humala and Alberto Fujimori's daughter, Keiko.
Critics accused Keiko Fujimori of standing so that she could grant her father a pardon if she won.
During the election campaign, she denied that she would.
(below) Former President, Alberto Fujimori, was sentenced to 25 years in jail in 2009

Under Peruvian law, he could only be pardoned on health grounds.
Some analysts have also speculated that the current President, Alan Garcia, could grant Mr Fujimori a pardon before he leaves office at the end of July.
Last week, a member of Mr Garcia's party called publicly for him to do so.
But earlier this year, Mr Garcia said it was not something he was considering.
Mr Garcia and Mr Fujimori have a history of disputes.
In the 1990s, when Alberto Fujimori was in power, his government supported attempts to extradite Mr Garcia from Colombia, where he was in exile.
The government wanted to prosecute him for alleged corruption during Mr Garcia's first period in government in the 1980s - charges Mr Garcia denied.
The attempts to prosecute Mr Garcia ultimately failed.