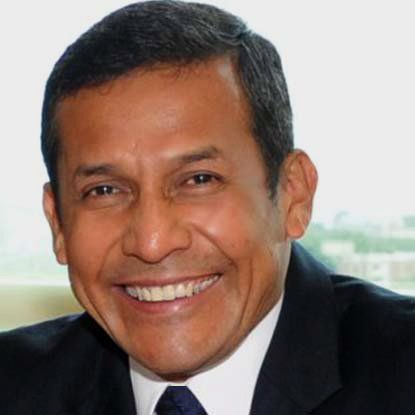 (above) Humala has a vast support but people want him to have an multi-party and independent cabinet. (Photo: GanaPerú)

Poll reveals president-elect Humala has 70 pct approval
June 20, 2011 - LivingInPeru.com

By Jorge Riveros-Cayo, LivinginPeru.com
Peru's nationalist president-elect, Ollanta Humala, will probably not have a long-term honeymoon. But a vast majority of Peruvians are willing to support him, at least for now.

Humala has an approval rating of 70 percent two weeks after winning the elections, according to the first poll done by Ipsos-Apoyo and published Sunday by El Comercio.

"The moderated and conciliatory attitude with which Humala has reacted to his presidential victory has been warmly received by public opinion," says Alfredo Torres, head of Ipsos-Apoyo.

From the people that voted for Humala, 41 percent did so because he represents a change; 37 percent because he will fight against corruption; 34 percent because he is new to the government structure; 27 percent because he offered to put order and a "firm hand;" 22 percent because he will help the poor, and 16 percent because he will change the economic model.

The same poll reveals that 78 percent think he will do a good or average government, and 51 percent think that Humala's election is positive for Peru's progress.

Despite the high approval Humala has, 61 percent of the 1,200 Peruvians that were polled expect him to have an administration in the line of Brazil's Luiz Inácio Lula da Silva, and 11 percent as Hugo Chávez of Venezuela.

Likewise, 45 percent think the finance minister should be independent, meanwhile 25 percent think he/she ahould be from Humala's party or another party (22 percent). According to 42 percent of the people that were polled, Humala's first cabinet should be made up by people from different parties, while 29 percent think it should be conformed mainly by independent figures.

"In general, the public opinion expects Humala to appoint independent people in the key cabinet positions in order to have a multi-party cabinet," says Torres.

When people are asked what should Humala change or fight against during his administration, they answer: Fight Corruption (55 percent); fight crime and violence (52 percent); fight terrorism and drug trafficking (34 percent); change working conditions in some firms (32 percent); change bad quality of education (28 percent), and change the lack of state support for the poor (23 percent).

When people are asked what shoud Humala continue during his administration, people respond: Investment promotion and economic growth (60 percent); the social program "Juntos" to fight poverty (52 percent); the program "Agua para todos" (34 percent); the free trade agreements and encouraging exports (33 percent); teacher evaluations and better salaries (23 percent), and decentralization and regionalization (18 percent).