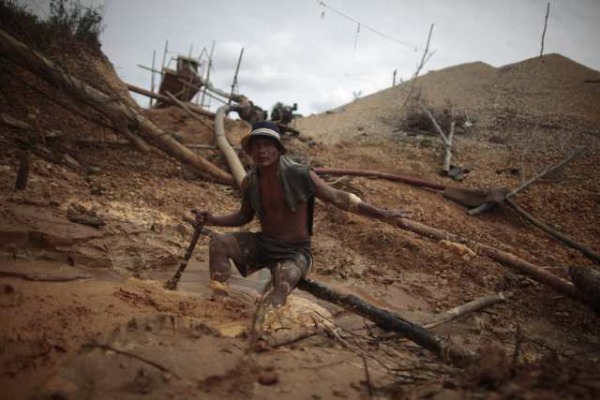 (above) A miner works inside the crater at an illegal gold mining process in Madre de Dios, Peru. An estimated 35 metric tons of mercury is released annually by miners in this state alone, slowly poisoning people, plants, animals and fish, scientific studies show. (Esteban Felix / Associated Press)
Op-Ed
After the gold rush in Peru
August 7, 2011 - Los Angeles Times
Highly destructive to ecosystems and dangerous to miners, the corrupt, chaotic industry must be regulated and legal measures put in place to protect Peruvians and their environment.
By Heather Williams

Seventeen thousand feet above sea level, at the top of the Lake Titicaca basin in Peru, the gray-black slopes sparkle with tiny flakes of gold.

Each day, 40,000 people with pickaxes and crude hydraulic drills work the shaft mines of La Rinconada. Another few thousand toil in teams sifting sand in an open pit mine at the headwaters of the lake's principal tributary.

A gold rush is on in this part of the Andes. New fortunes are made by a few, while many others toil amid mass squalor. Late-model 4x4s and half-million-dollar earthmovers navigate dirt roads past slums of corrugated metal shacks. There is little government to speak of here: Families melt snow from their roofs for water, cook with canisters of gas and light their homes with kerosene lamps. Dogs ransack piles of garbage that line the mud paths from the shacks to the mines. The cemetery is a riot of color, with plastic flowers covering fresh graves.

With gold at $1,600 an ounce, many in the region, one of Peru's poorest, work the mines for a gram or two of the mineral a week. It is grueling work. Tiny bits of gold in the low-grade ore are teased from hard rock with mallets or crude crushing machines, then refined with toxic mercury in an unventilated house or a corner store.

In the adjacent open-pit mine, teams of men dredge the Ramis River to a depth of 900 feet or more, leaving the topsoil, waste rock and tailings in piles to be washed away by the river. The pit is massive. When I was there in June with a group of my students, I measured it with a GPS at about eight miles long and more than a mile across.

Mining in the area is largely off the books and unregulated. Two large corporations, including one that is state-run, have operations in the area, but the actual extraction is done by "artisanal" miners working for cooperatives. It's difficult to decipher who exactly controls the cooperatives, but they are generally operated by people with enough money to buy equipment and enough clout to win contracts. Locals say strongmen control different areas of the pit, hiring workers who toil for the chance to occasionally take home what they find in a day. It's a chaotic, corrupt and brutal place.

The miner who agreed to accompany my students and me this year insisted that this open-pit method of mining was "all natural, without chemicals." But soil samples I took and had analyzed told a different story. They indicated that the waste contained very high levels of arsenic, elevated amounts of lead and detectable levels of mercury.

Shortly after open-pit mining began in this basin about seven years ago, sheep and cattle began to die. Downstream, farmers say that since the mining began nothing has been the same. One elderly woman who lived alone in her house on the mountain began to cry as she told me about how her herd of eight dairy cattle died after the river turned opaque with mine waste. Other women in the same community described the death of the river: First the fish died, they said, then the birds went away, then the frogs. Today, they said, not even the smallest creatures, the butterflies and aquatic insects, live along the river.

Much has been made of the leftist credentials of Peru's new president, Ollanta Humala. Pundits have speculated about whether he will govern more like Venezuela's mercurial Hugo Chavez or more moderately, like Brazil's former president, Luiz Inacio Lula da Silva.

But Humala's biggest challenge during his five-year term may be less one of ideology than of practicality. In this mineral-endowed nation — currently the world's sixth-largest exporter of gold — one crucial question is whether the president will be able to rein in the chaos in places like La Rinconada, balancing the demands of mining with environmental concerns and the needs of the poor.

Protests by various groups over pollution and mining rights have rocked the region. In May and June, tens of thousands of indigenous people occupied Peru's southeastern border checkpoints and its main highways for weeks on end. A five-day occupation of the region's capital, Puno, culminated in arson and widespread damage. Another protest at the region's main airport ended in gunfire, with six dead and scores of people wounded.

The protesters' demands up to now have been fragmented. Some groups are demanding a cleanup of the Ramis River. Others want the government to declare a municipal water recharge area off limits to mining. Still others have called for the departure of multinational corporations from the region or for a bigger share of the revenues from mining taxes. Finally, and most ominously, there are groups among the protesters who want to clear the region of formal mines to make way for off-the-books, unregulated mining.

Without adequate legal protections, Peruvians whose lands and water are destroyed by mine pollution are left with no alternative but to work in the mines themselves or to fight back with militant collective action.

What the Humala administration must do in the next five years is to make it clear that no mining operation, big or small, is beyond the law. He must break with the practice of dealing with mining conflicts on an ad hoc basis and instead work with the Peruvian legislature to write regulatory and environmental statutes that make citizens part of the enforcement process. By making information about mining and water quality public and providing greater power of injunction against polluters, Humala can make it possible for Peruvians to stop dangerous mines before they threaten lives and ecosystems.

Heather Williams is a professor of politics at Pomona College.