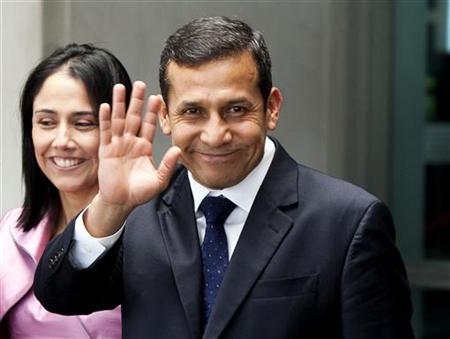 (above) Peruvian President-elect Ollanta Humala waves as he walks from the State Department after meeting with U.S. Secretary of State Hillary Clinton in Washington July 6, 2011.
Photo: Reuters/Joshua Roberts
Analysis: Peru's indigenous losing faith in reformed Humala
August 17, 2011 - Reuters
By Caroline Stauffer

LIMA –(Reuters) - Indigenous leaders and rights groups in Peru are expressing disappointment with President Ollanta Humala's plan to encourage oil exploration in the Amazon and want the leftist leader to safeguard tribal lands.
The new head of Peru's oil agency has said Peru hopes to attract up to $20 billion in petroleum and gas investment in the next five years, more than the $6.2 billion the sector brought in under former President Alan Garcia.
Garcia's term was marred by frequent clashes with indigenous groups over laws aimed at opening ancestral lands to foreign investors. Tensions with police often erupted in violence, at times turning deadly. Indigenous communities had thought Humala, who championed the glory of the Incan empire during the campaign, would be different.
But the former anti-capitalist radical has reinvented himself as a moderate and is now wooing the foreign investors he once railed against.
Indigenous groups, who have not made the political inroads of their peers in neighboring Bolivia and Ecuador, now fear Humala will put finding new energy for Peru's surging economy ahead of preserving their lands.
"The communities had entrusted this government to oversee a real, profound change," said Alberto Pizango, head of Peru's most important indigenous rights group in the Amazon, AIDESEP. "But Humala has altered his discourse, leading the people to say this government will just be more of the same."
Pizango criticized Humala for designating Carlos Herrera, an engineer, as mine and energy minister. Pizango says Herrera showed little concern for indigenous people when he approved petroleum concessions during the first time he held the post in 2000.
Humala's defenders, however, praise him for backing a proposed measure that would require firms to hold consultation meetings with local communities before drilling for oil or mining near their homes. Passing the consultation law has long been a priority for indigenous leaders.
The measure, which was passed by Congress but vetoed by Garcia last year, would put Peru in compliance with a U.N. convention on indigenous peoples that Peru signed in 1989.
Aurelio Ochoa, an Humala appointee in charge of energy concessions, told Reuters he personally supports the proposed consultation law.
BEYOND CONSULTATION
Pizango said enacting a consultation law would give indigenous communities more influence over how their lands are used but might not be enough to curb widespread opposition to energy extraction in the Amazon.
More than 200 towns have organized to stop mining or oil projects in Peru. In numerous cases, violence has erupted, causing at least 100 deaths in the past 3-1/2 years, according to the government's human rights office.
The conflicts threaten to delay some of the $50 billion companies plan to spend on natural resource projects in Peru over the next decade.
A clash between police and indigenous protesters in the northern Amazon town of Bagua killed 33 people in June 2009, the low point of Garcia's presidency. His government accused Pizango of fomenting the violence and blamed leftist presidents in the region for encouraging the unrest.
"I feel the people are increasingly convinced that the only way to be heard is through their protests," Pizango said. "They want an end to traditional politics ... not just dialogue."
Others worry that tribes living in voluntary isolation from the outside world would suffer if virgin lands are opened up to drilling and mining.
Peru is home to one of the world's largest populations of so-called uncontacted tribes, advocacy groups say.
Peru has set up reserves to protect tribes that live in voluntary isolation. But Garcia's government said in some cases drilling was permitted in reserves, frustrating activists.
Humala's views on the reserves are not yet known, but activists working in the region are not especially optimistic.
"I'm not convinced Humala's going to stand up for people who don't have any power," said Gregor MacLennan of the group Amazon Watch. "I'm concerned about what's happening to the whole region. It's going to reach a tipping point."
The international advocacy group has complained that Pluspetrol, which operates two lots on the Camisea natural gas fields, explores inside reserve areas. Pluspetrol declined immediate comment.
Ochoa, the geologist managing concessions for Humala, says the reserves will be treated with "total respect" but he does plan to aggressively promote exploratory drilling in Peru, which he considers a "semi-explored" petroleum landscape.
"Remember that there are different types of reserves," he said. "There are some that are untouched and virgin, but others can see some extraction."
(Reporting by Caroline Stauffer; Editing by Terry Wade and Will Dunham)