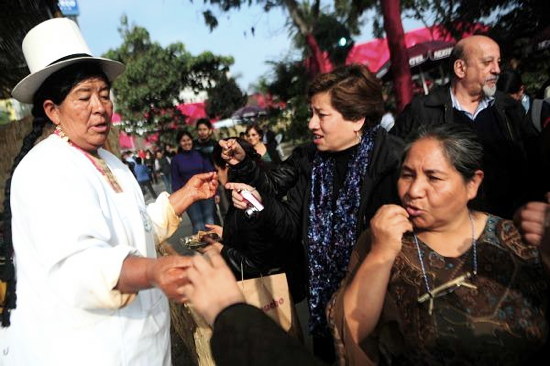 (above) A traditional Andean woman serves lamb meat to the crowd during the gastronomic fair Mistura in Lima on Sept. 8. The festival aims to promote Peruvian cuisine, chefs, food, and products from all over the country. Photo: ERNESTO BENAVIDES/AFP/Getty Images/Newscom

Peru celebrates its cuisine
September 16, 2011 - Christian Science Monitor
Peruvian cooking boasts a unique fusion of Spanish, Chinese, Japanese, Italian, African, Andean, and native American influences.
By Roshanak Taghavi, Contributor
When the chairman of Peru's Gastronomy Society set out to research the roots and multifarious preparations for raw fish marinated in lemon juice, spices and julienned onions, his goal was twofold: first to explain the unique context from which Peru's famous seafood dish, cebiche, was born and second, to internationalize it.

"We're building a global brand for Peruvian cuisine," said Mariano Valderrama, author of "The Roots and Flavors of the Cebiche," in an interview at his home in Lima. "Gastronomy will serve as the locomotive to push Peru's trains of agriculture and tourism."
Mr. Valderrama and other local culinary enthusiasts, such as renowned Peruvian chef Gaston Acurio, are at the forefront of an effort to unite the main actors in Peru's restaurant and gastronomical sectors. Already, their efforts have paid off.
Restaurants serving Peruvian gourmet have popped up in countries such as Chile, Mexico, Argentina, Colombia, Panama, Ecuador, and Venezuela during the past five years, prompting food gurus such as Anthony Bourdain to dub Peru's capital, Lima, the "gastronomical capital" of South America. Mr. Acurio's Peruvian gourmet franchises have opened in 18 countries, including a branch of his famous La Mar cebicheria in San Francisco.
Within a year of the late 2007 launch of Peru's Gastronomy Society (also known as APEGA), the roughly 200-member organization created the country's first national gourmet food festival, called Mistura. At an affordable $5.50 a ticket, Mistura has attracted Limeños from all walks of society. Attendance jumped sevenfold within two years of Mistura's inaugural 2008 launch, attracting two hundred thousand people in 2010. Mr. Valderrama estimates 300,000 people will attend this year's Mistura festival, which opened its doors Sept. 8 and is expected to last 11 days.
So what makes Peruvian cooking so special? "Peru is a melting pot of different cultures, and Peruvian food has always been very open to innovation and to different influences," says the APEGA chief. "You have very interesting mixtures."
Founded by Spanish conquistadors in 1535, Lima's position along the Pacific coast and establishment as the political, social and economic capital of the Spanish Viceroyalty brought with it a steady influx of immigrants from Europe, Asia, Africa and the mountainous Andean regions into the Peruvian capital. Today, Lima's 43 districts showcase a colorful melange of Old World Spanish, Moorish, Baroque, and American architectures interspersed with somber, compact buildings built during the 1980s and '90s, when Peru was encumbered by economic hardship and political violence.
The "City of the Kings" now houses roughly 9 million inhabitants from a variety of socioeconomic backgrounds dwelling in a mixture of diverse neighborhoods, with renovated colonial-era houses, ocean-side apartment buildings, and high-rises in the upscale Barranco, Miraflores, and San Isidro districts set against a steep backdrop of multicolored shantytowns lining Lima's hillsides and surrounding deserts.
Peru's national cuisine mirrors Lima's historic ethnic, economic, and political diversity, with Peruvian cooking boasting a unique fusion of Spanish, Chinese, Japanese, Italian, African, Andean, and Amero-Indian influences.
"Most if not all Peruvian food was originally considered poor people food," says Eva Rosales, who blogs about Peruvian cuisine on her website, Latinas en La Cocina. "Exchange and interaction with other cultures developed a fusion of a wide array of diversified dishes," Ms. Rosales said in an e-mail interview.
Numerous microclimates and an extensive biodiversity have endowed Peru with 2,000 types of potatoes, 35 types of corn, and more than 800 species of fish. Native varieties of the aji – or chili pepper – serve as a unifying ingredient which, according to Mr. Valderrama, Lima's culinary community hopes to one day market and distribute internationally.
"Successfully promoting Peru's gastronomy in a short time will be a lot of work," says Mr. Valderrama. "The process is just starting."