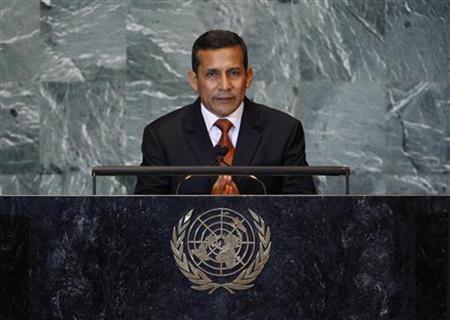 (above) Peruvian President Ollanta Humala Tasso addresses the 66th United Nations General Assembly at U.N. headquarters, in New York, September 22, 2011. Credit: Reuters/Chip East
Analysis: Peru's Humala basks in honeymoon, pushes reforms
October 13, 2011 - Reuters

By Terry Wade and Patricia Velez
LIMA– (Reuters) - President Ollanta Humala's political honeymoon has been sweeter than anyone predicted and it could go on for months if he can ramp up social spending even as a dismal global economy tempers Peru's long boom.
A former military officer once dismissed by a conservative establishment as a naive and dangerous acolyte of Venezuela's fiery President Hugo Chavez, Humala is enjoying the most successful first 100 days in office of any Peruvian leader in decades.
His popularity rating has soared to 65 percent as he follows a center-left model after a series of rightist coalitions held power for much of the last 20 years.
Humala's mix of policies, which aim to please the poor and investors at the same time, is not new in Latin America and his playbook reads like ones followed for years by the Concertacion coalition in Chile or the Workers' Party in Brazil.
But what is surprising is how quickly the model, combined with a more conciliatory personal style Humala has taken pains to develop, has paid dividends in a polarized country where leaders are usually disliked, if not despised.
Of Peru's three previous presidents, Alberto Fujimori was run out of office by angry voters in 2000, Alejandro Toledo sometimes polled in single digits and Alan Garcia grew ebullient whenever polls showed him climbing above 30 percent.
"I think this new style is working," said Alfredo Torres of the polling firm Ipsos. "Humala could lose some popularity due to social and economic problems, but my impression is that the honeymoon will be prolonged."
Humala has tapped into voter sentiment that free-market reforms of the 1990s weakened the state too much, leaving it unable to spread the wealth from the commodities boom of the last decade to the one third of Peruvians living in poverty.
He has already moved two pieces of landmark legislation with a social bent through Congress with overwhelming support.
One bill raised royalties on companies in the vast mining industry to fund social programs and infrastructure projects, and the other gave indigenous communities and rural towns more influence over how mining and oil projects are carried out on their lands.
His prime minister, the businessman Salomon Lerner, has also averted what could have been a tumultuous anti-mining protest against Southern Copper and lured at least $5.7 billion in new investments.
Lerner, who has moved between government and the private sector since the 1970s, also has the role of keeping the radical left wing of the ruling Gana Peru party in check. Analysts say the government might be adrift without his experienced hand.
SOCIAL SPENDING IN LEANER TIMES
Next on Humala's agenda is rolling out a stimulus program to keep the local economy humming if the global crisis worsens and a program giving a minimum pension to poor people over 65.
He also promises to raise the minimum wage a second time and expand a program of cash transfers to poor families, but these moves will depend in part on how tax revenues perform.
Finance Minister Luis Castilla has said new social spending won't jeopardize Peru's healthy fiscal surplus.
So far, Humala has not faced a single setback in Peru's unicameral legislature.
"A block with a comfortable majority has formed in Congress and at least for the first year I don't think they are going to have any problems," opposition lawmaker Carlos Bruce said with a slight tone of resignation.
Bruce said it remains to be seen if Humala will push for Congressional approval of a long-stalled labor law reform that aims to move casual laborers onto payrolls.
More broadly, Humala and Lerner are trying to defuse social conflicts in around 200 towns nationwide that are often fomented by local politicians and marred the tenure of Garcia.
"The local and regional governments had sort of been abandoned," Lerner said recently. "We are working on forging a new relationship based on dialogue with different constituencies."
Humala campaigned on promises to spread the benefits of Peru's decade-long economic miracle to the poor and end conflicts that pit mining and oil companies who plan to invest $50 billion here over the next decade against small towns worried about pollution, water supplies or tax revenues.
Early signs indicate that Humala will have better luck at managing social conflicts than his predecessor because his left-wing roots give him more credibility among the poor.
There is a risk, however, that poor voters have elevated expectations and may become frustrated by Humala's more moderate style.
Economy growth is also expected to cool to 5.7 percent next year from about 6.5 percent this year and government officials have indicated they may have to brace for a sharper slowdown -- which could hurt Humala's ability to fund welfare projects.
"If he fails to deliver what he has promised, social tensions might increase," said Juan Lorenzo Maldonado, an analyst at Roubini Global Economics.
(Reporting by Patricia Velez and Terry Wade; Editing by Kieran Murray)