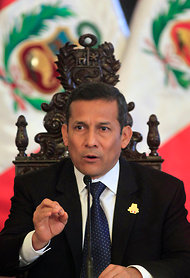 (above) President Ollanta Humala of Peru in August. Photo: Martin Mejia/Associated Press
Peru Leader Ousts 30 Police Generals in Anti-Corruption Drive
October 10, 2011 - NYTimes
By SIMON ROMERO
President Ollanta Humala of Peru has dismissed two-thirds of the generals in the country's national police force, the most forceful move yet in an anti-corruption drive he announced shortly after taking office in July.
The purge suggests that Mr. Humala, a former military officer who has adopted a low-key governing style, is prepared to assert his control over Peru's governing institutions, starting with an issue that resonates with many Peruvians.
Mr. Humala's government published details of the purge on Sunday in Peru's official newspaper, El Peruano. The move included the dismissal of 30 of the 45 generals in the police force, including its director, Gen. Raúl Becerra, who was replaced by Gen. Raúl Salazar, an officer who gained prominence in the government of Mr. Humala's predecessor, Alan García.
"We must banish any act of corruption that stains the name of the police," General Salazar said Monday. "It does not matter if you steal one sol, or more," he said, referring to the Peruvian currency.
Peru has recently been bolstering its national police force in an effort to combat an increase in crime and drug trafficking, hiring 5,600 members this year to bring its overall numbers to about 104,000.
But recent opinion polls in Peru showed that almost half of those questioned said that the police were the most corrupt institution in the country. While Peruvians often complain of low-level police officers' soliciting bribes, several of the generals forced into retirement are also under investigation over corruption accusations.
Still, others questioned whether the purge was overly broad in scope.
"I feel a little mistreated because they didn't specify who was placed in retirement because of seniority and who was replaced because they are being investigated," said Gen. Horacio Huivin Grandez, 56, a former antidrug official who was one of those dismissed. He said he was not under investigation over any corruption claims.
Vice President Omar Chehade defended the purge on Monday, contending that Mr. Humala, along with the ministers of interior and defense, had undertaken for weeks a "serious evaluation" of the hierarchy of the police. "They saw it convenient to promote many of the commanders," he said, "while in other cases putting an end to the role of many police."
Andrea Zarate contributed reporting from Lima, Peru.