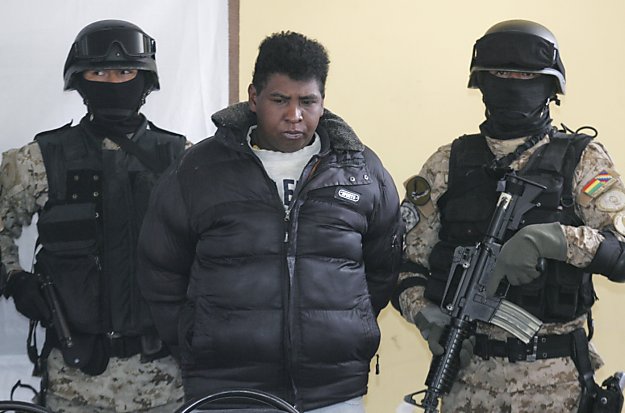 (above) Julio Edwin Valdez, the reputed leader of a band of robbers, was arrested last week. The gang allegedly strangled their victims after luring them onto buses. Photo: AP

Bolivian killers lured victims onto buses
February 22, 2012 - San Francisco Chronicle
El Alto, Bolivia (AP) -- The little buses looked like any others as they rattled down the dirt streets of El Alto, collecting people headed to work in the predawn chill.
But authorities say they were death traps, employed by a murderous band to harvest victims who would be strangled for what little they possessed.
Police are blaming the band for at least 69 killings, and say dozens more victims survived the stranglings and were left for dead in isolated stretches of the working-class city of 1 million people on the arid plateau above Bolivia's capital.
"This kind of assault came about because people, of necessity, take whatever transport they can get," said police Col. Felix Rocha, chief of Bolivia's criminal police.
Gang members would ride the minibuses posing as passengers, police said. When their prey boarded and dropped into a seat, they were strangled with a rope or scarf and stripped of valuables that often amounted to little more than a cell phone and the clothes on their backs, Rocha said, the bodies dumped in remote districts of this city inhabited chiefly by indigenous migrants from the countryside.
A 64-year-old man who said he survived a Feb. 5 attack by the band recounted leaving his house at 4 a.m. on his way to the bank were he collects his monthly pension.
He said he confidently boarded what he thought was a public transit minibus.
"They had me sit in the front and all of the sudden I felt a blue scarf tightening around my neck. I fought back but they hit me in the ribs" and face and he fell unconscious, said the man, who asked to be identified only by first name, Macario, because he fears for his safety.
"I woke up later in a Dumpster," Macario added. Gone were his cell phone and the equivalent of $55 in the local currency, bolivianos.
Police last week announced the arrest of eight alleged members of the band, ranging in age from 30 to 45.
Rocha said police seized four 14-seat minibuses used by the band.
He said most of the killings occurred between 4 and 6 a.m. when public transport is relatively scarce and only 400 police are on duty in the entire city, which is mostly unpaved and where many neighborhoods lack running water and electricity.
Rocha said the band is believed to have killed 69 people whose bodies were found over the past 13 months, though prosecutor Santos Valencia said investigators are still trying to determine if the group was responsible for all those killings.
The gang appeared to have been less than thorough because more than 70 people recognized gang members in local media reports and told police they had survived attacks, Rocha said.
The gang's alleged leader, identified by police as 33-year-old Julio Edwin Valdez, was arrested last week by heavily armed, masked police wielding assault rifles.
A leader of El Alto's dominant grassroots civic group said Monday that it had received complaints from nearly every one of the city's 10 districts of killings by bands known as cogoteros, or stranglers.
He said neighborhood councils were planning to organize joint patrols with police to protect workers in the wee hours.