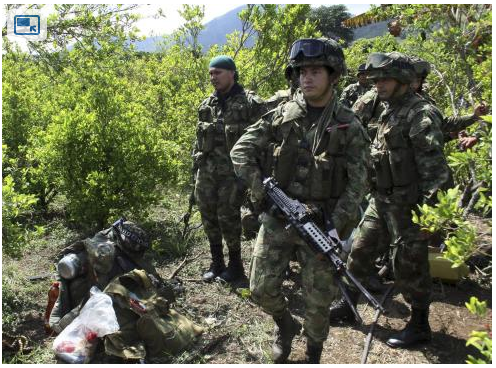 (above) Soldiers patrol near coca fields July 18. The White House says Colombia's cocaine production fell 25% in 2011. By Juan Bautista Diaz, AP

White House says Colombia not leader in cocaine
July 31, 2012 - USA Today

WASHINGTON – Colombia is no longer the world's biggest producer of cocaine, according to the Obama administration.
Gil Kerlikowske, director of the White House Office on National Drug Control Policy, announced Monday that Colombia -- the origin of much of the cocaine trafficked into the U.S.-- fell behind Peru and Bolivia in production of cocaine in 2011. The latest estimate puts Colombia's production at 195 metric tons, a 25% reduction from the previous year and down from 700 metric tons in 2001.
Both Peru and Bolivia -- the other two Andean countries that produce the world's cocaine supply -- have seen their production rise in recent years.
Peru accounted for 325 tons in 2010 (compared with 225 tons in 2009) and Bolivia for 265 tons in 2011 (up from 205 tons in 2010), according to White House estimates. The office has yet to complete its 2011 estimate for Peru.
The White House findings conflict with a study released last week by the United Nations Office on Drugs and Crime that showed cocaine production was up 3% in Colombia in 2011.
"While we don't challenge the U.N. estimates, we believe that our estimates are informed by more sophisticated technology and a different methodology," the White House Office of National Drug Control Policy said in a statement.
The increase in cultivation in Colombia in the late 1990s and early 2000s had been ascribed to drug suppression efforts in Peru and Bolivia. But Cynthia Arnson, director of the Latin American Program at the Woodrow Wilson International Center for Scholars, said that as Colombia cracks down, Peru and Bolivia are seeing production tick up again.
Kerlikowske credits Colombia with strengthening democratic institutions, focusing on eradication, targeting drug-trafficking organizations and increased foreign investment. He also noted Americans' consumption of cocaine has dropped by 39% since 2006, according to the National Survey on Drug Use and Health.
"Clearly, reducing supply is incredibly helpful in reducing the demand here in the United States," he said in a speech at the Center for Strategic and International Studies. "The second thing that I think that is really important is the educational efforts -- that are often not given credit for reducing the level of consumption."
Kerlikowske's comments come as President Obama pushes for $10 billion for drug education programs and drug treatment in the 2013 budget.