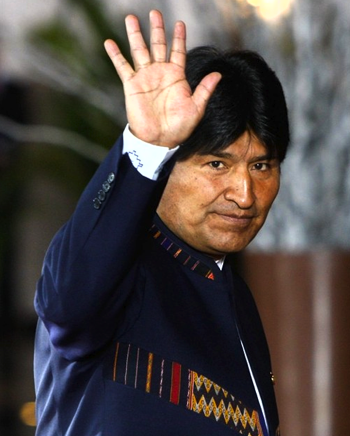 (above) (Karel Navarro, File/ Associated Press ) - FILE - In this Tuesday, Oct. 2, 2012, Bolivia's President Evo Morales waves to photographers upon his arrival to the Summit of South American and Arab Countries in Lima, Peru. Morales said Friday, Oct. 12, 2012, during a ceremony marking "Decolonization Day" that relations with the U.S. Embassy in La Paz have become so bad they are "like a turd."
Bolivia's Morales says relations with US Embassy awful
October 13, 2012 - Washington Post
On Friday, Bolivia's first indigenous president marked the 520th anniversary of Christopher Columbus' arrival in the New World with a characteristic jab at the United States.
During a ceremony marking "Decolonization Day," he said relations with the U.S. Embassy in La Paz have become awful --"like a turd."
He recalled that previous Bolivian governments would seek Washington's blessing on key appointments, including interior minister and police and armed forces chiefs.
That all changed after Morales, a longtime coca growers' union leader, took office in 2006. Two years later, he kicked out U.S. drug agents and Washington's ambassador, accusing them of inciting the opposition.
U.S. counterdrug cooperation has since been radically reduced to Bolivia, which along with Peru and Colombia is a major cocaine-producing nation.
Bolivia and the United States signed an agreement 11 months ago under which they agreed to seek to restore relations the ambassadorial level.
But that day has yet to arrive, and Morales is upset that the United States last month declared for a fourth time that Bolivia has been insufficiently cooperative in the war on drugs.
The United Nations and the United States both agree that Bolivia's coca crop, the raw material of cocaine, was smaller last year than in 2010, and credit increased government eradication.
But U.S. officials say Bolivia has at the same time become a haven for drug traffickers. They say it has actually boosted cocaine production, including by transporting coca paste from neighboring Peru for final processing in Bolivia.
Copyright 2012 The Associated Press