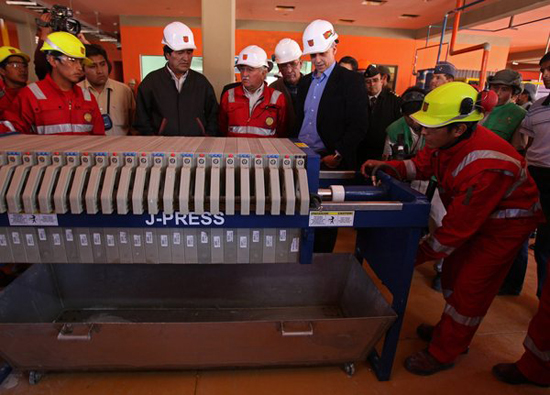 (above) Bolivian President Evo Morales, Vice President Alvaro Garcia Linera and Luis Alberto Echazu, chairman of evaporative resources for the Bolivian Mining Corp., visit the first state-run lithium plant in Llipi. (Martin Alipaz / European Pressphoto Agency / January 3, 2013)
Bolivia opens first lithium plant on edge of Uyuni salt flats
January 4, 2013 - LA Times

By Emily Alpert

Bolivia has announced the opening of its first lithium plant, as the South American nation seeks to tap its vast salt flats for the silvery element used in batteries for electric cars, cellphones and laptops.
President Evo Morales heralded the opening of the pilot plant in Llipi, on the edge of the Uyuni salt flats, calling it "a historic day" for Bolivia, the state news service reported Thursday.
"These are important steps – and of course, they must be expanded," he said.
State mining officials say the $19 million plant is expected to produce 40 metric tons of lithium carbonate annually, a paltry amount compared with what Bolivians eventually hope to reap from the salt flats. The country is believed to have some of the biggest untapped reserves of lithium in the world.
Morales has sought to nationalize the country's energy sector and has pressed for Bolivia to not only profit off its lithium but to industrialize it, someday producing its own batteries and cars. It's been said that Bolivia can become "the Saudi Arabia of lithium."
Yet Bolivia has a long way to go before becoming a lithium giant, experts say. "As a symbolic act it's really important" to open the first lithium plant in Llipi, said Benjamin H. Kohl, an associate professor at Temple University who has written extensively about Bolivia.
"But I don't think it's going to change everyday life for most Bolivians," Kohl said in an email.
Experts caution that the cost of mining lithium in Bolivia could cut into possible profits. The Bolivian flats have a relatively high concentration of magnesium, which makes it difficult to recover pure lithium, said Steve Kesler, professor emeritus at the University of Michigan.
The Uyuni is also wetter than other areas rich in lithium, which weakens the evaporation process conventionally used to remove other minerals, said Tom Currin, president of MIZ Comercializadora, a private engineering company focused on the lithium industry. Also, the area is isolated and has scant infrastructure, raising questions about how potash and other byproducts can be moved out.
More exploration is needed to determine whether the pockets of lithium are continuous or patchy, which would also make them harder to plumb, Kesler said. To drum up the investment needed at the start, outside analysts widely believe Bolivia will need to court foreign companies as partners – a prickly idea in an impoverished country that feels it has been misused by corporations in the past.
"They are talking about having local indigenous companies do it, but they often don't have the technology," said Larry Birns, director of the Council on Hemispheric Affairs in Washington.
"Morales is increasingly interested in seeing that this stuff is mined and sold," and weighing outside help to do it, Birns said. But Bolivians are willing to hold off on commercializing the prized lithium if they think they're getting too little for it, he added. "Many Bolivians are willing to not go forward. They feel 'We're not really going to benefit from this anyway. We never have,'" he said.
Morales has repeatedly stated that "Bolivia wants partners, not masters." Foreign companies, in turn, may be leery of Morales and his government, which recently nationalized several subsidiaries owned by a Spanish energy company. Morales has publicly stated that the Bolivian state should get the majority of lithium earnings in any deal, terms that some companies may find unappealing.
Currin, who worked with a company to evaluate whether to pursue a project in Bolivia, said it was difficult to get details on what fees would be required and what steps it would take to get permits.
Investors want to know, "Are you going to be able to produce and sell your product?" Currin said. "We just couldn't see a clear path. … It was very vague and it changes."
Kohl and independent scholar Linda Farthing also point out that existing mining operations in Chile, China and other countries are already expected to satisfy global demand for years. In the short term, they wrote in a recent article, lithium will shape Bolivian dreams more than the Bolivian economy.