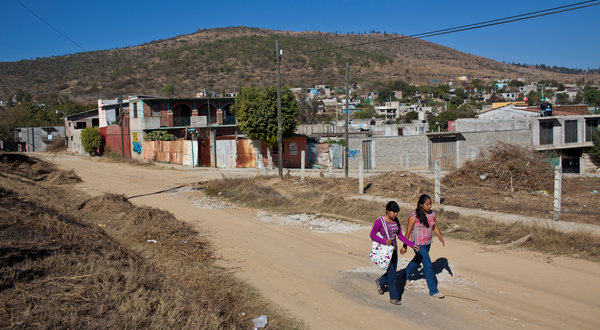 (above) Many Mexican migrants now shun the border for Mexican towns like Santa María Atzompa. (Photo: Rodrigo Cruz for The New York Times)
Migrants' New Paths Reshaping Latin America
January 5, 2012 - New York Times
By DAMIEN CAVE
SANTA MARÍA ATZOMPA, Mexico -- When the old-timers here look around their town, all they see are new arrivals: young Mexican men working construction and driving down wages; the children of laborers flooding crowded schools; even new businesses -- stores, restaurants and strip clubs -- springing up on roads that used to be dark and quiet.

(below) Map: The dangers and cost of crossing illegally into the United States make towns like Santa María Atzompa attractive to migrants. (Map: New York Times)

The shock might seem familiar enough in countless American towns wrestling with immigration, but this is a precolonial Mexican village outside Oaxaca City, filling up with fellow Mexicans. Still, grimaces about the influx are as common as smiles.
"Before all these people came, everything was tranquil," said Marcelino Juárez, 61, an artisan at the local ceramics market. "They bring complications. They don't bring benefits."
Throughout Mexico and much of Latin America, the old migratory patterns are changing. The mobile and restless are now casting themselves across a wider range of cities and countries in the region, pitting old residents against new, increasing pressure to create jobs and prompting nations to rewrite their immigration laws, sometimes to encourage the trend.
The United States is simply not the magnet it once was. Arrests at the United States' southwest border in 2011 fell to their lowest level since 1972, confirming that illegal immigration, especially from Mexico, has reached what experts now describe as either a significant pause or the end of an era.
But this is not a shift in volume as much as direction. Nearly two million more Mexicans lived away from their hometowns in 2010 than was the case a decade earlier, according to the Mexican census. Experts say departures have also held steady or increased over the past few years in Guatemala, El Salvador, Peru and other Latin American countries that have traditionally been hubs of emigration.
(below) A Mexican sociologist has called the growth of Santa María Atzompa and the surrounding area "fast, barbaric and anarchic." (Photo: Rodrigo Cruz for The New York Times )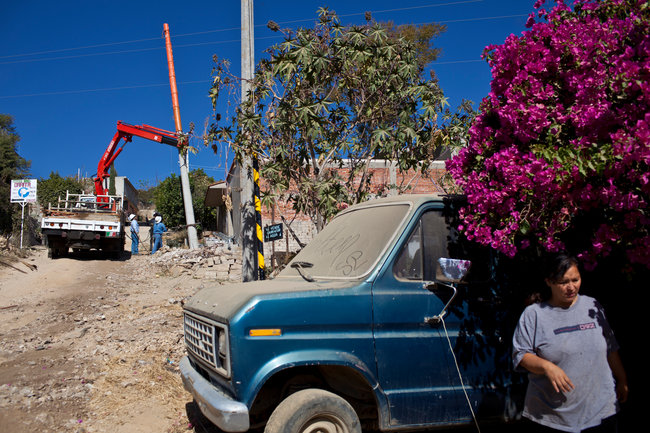 The migrants are just not always going where they used to.
Mexicans, for example, are increasingly avoiding the United States and the border region, as well as their own capital, and are moving toward smaller, safer cities like Mérida, Oaxaca City and Querétaro. Experts say more Guatemalans are also settling in Mexico after years of passing through on the journey north.
To the south, the pull of Chile, Argentina and Brazil is also strengthening. The International Organization for Migration reports that the Bolivian population in Argentina has increased by 48 percent since 2001 (to 345,000), and that the country's Paraguayan and Peruvian populations have grown even faster.
All of this movement is reshaping the region, making it less like a compass pointing north and more like a hub with many spokes. From the papayas grown by Bolivian farmers in Argentina to the recent discovery of exploited illegal workers in Chile and conflicts over local government in southern Mexico, this intraregional migration in Latin America has become both a challenge and a promising surprise for a part of the world that has generally framed the issue in terms of how many people leave for the United States.
"It's like a river changing course," said Gabino Cué Monteagudo, the governor of Oaxaca. "It's the process of development -- it's inevitable."
(below) The town has grown to 27,000 people from 5,781 in 1990. (Photo: Rodrigo Cruz for The New York Times)

For the United States, the collective shift means fewer migrants crossing the border illegally and possibly more debate over whether the expanded budgets for immigration enforcement still make sense.
But the greatest impacts are being felt in fast-growing towns like Santa María Atzompa, where thousands of mostly poor, rural families have chosen to seek their fortunes. In the case of this town and the surrounding area, the growth has been "fast, barbaric and anarchic," said Jorge Hernández-Díaz, a sociologist at the Autonomous University of Benito Juárez de Oaxaca.
A generation ago, he said, the road from Oaxaca City to the main plaza of Atzompa passed by fields and farmers, little more. The total population for the municipality in 1990 was 5,781. Now, this small piece of land has filled in with a labyrinth of dirt roads with dead ends, new businesses and thousands of homes in varying levels of construction and quality.
Residents say the population boom accelerated around 2006, as opportunities in the United States fell away and the dangers and cost of crossing the border became prohibitive amid drug cartel violence and stepped-up border security. Now, more than 27,000 people live in Atzompa, according to the 2010 census, and more keep coming.
Other regional poles are experiencing similar growth. Indeed, while the population of Mexico City has stabilized and immigration to the United States has declined, Mexico's coastal and exurban areas have expanded.
This is partly because of the Mexican government's efforts to decentralize development, often with incentives for international businesses. Just last month, Nissan said that it would build a factory in the central city of Aguascalientes. Here in Oaxaca State, experts say, the migration out of rural areas is also a product of land reforms in 1992 that, along with the North American Free Trade Agreement, made it harder for farmers to eke out a living and easier for them to sell land.
In South America, too, free trade agreements have contributed to more regional movement, as have steadily growing economies and new laws encouraging migration or protecting migrants' rights in Argentina, Uruguay, Mexico and Ecuador, among others.
Improvements in technology (especially access to cellphones) and infrastructure (especially better roads) have also made it easier to discover and reach jobs in new places, fueling the classic urge to improve one's lot without the obstacles and increasing perils of the trek north.
"It's the economics, but also the culture and more information," said Juan Artola, South America director for the International Organization for Migration. "Intraregional migration has grown a lot in the last decade and it's very important because of the changes it implies."
Continuing and expanding the move toward urbanization, migrants are now making Latin America more integrated, and more metropolitan, say demographers and experts throughout the region. About 77 percent of all Mexicans now live in urban areas, up from 66 percent in 1980.
That makes it easier and cheaper to provide services, including health care, water and electricity, say government officials. For migrants, education seems to be the main draw. Schools that go beyond secondary education are rare in the mountain towns of this poor state, and many young people say they came here to study or because a relative came to study.
Gabriel Hernández, 21, said that four of his brothers moved here to study, starting a decade ago. Some graduated, others did not, but the family opened a bodega about a year ago, selling produce from their hometown in the northern mountains.
Mr. Hernández and many other new residents in Atzompa, who come not only from Oaxaca, but also Veracruz, Mexico City and elsewhere, say they are happy with how things have gone.
Javier Espíritu 36, Buddha-round and covered in paint at the carpentry shop he opened last month, said he had no plans to move again. Business is decent, but his reasons go beyond economics. He came here with his wife and two children, a rarity for migrants who cross into the United States illegally, separated from their families. And unlike his older brothers who made that journey a decade ago, he said he traveled home to his village six hours south of here twice a year.
"When my mom needs anything, she calls me," he said. "Going to other states, or the U.S. -- it's too complicated. Can you imagine me trying to take my whole family up there?"
And yet, as many Americans in communities with immigration growth have learned, new residents mean new challenges. Poverty in Atzompa remains high. A drug rehabilitation center sits down the block from Mr. Espíritu's workshop; strip clubs promising "bellas chicas" are nearby, and longtime residents now complain about having too many young men with different values in their midst.
"They're not from here," said Mr. Juárez, the artisan, explaining the enduring divide.
Atzompa seems to have reached its breaking point. Governor Cué said that urbanization was one of his administration's main priorities, but the government is clearly struggling to keep up with population growth. Only a handful of Atzompa's roads are paved, and the main secondary school, built for about 120 students, now has nearly 700. Gym classes and sports practices take place on the dirt roads outside.
The strains have led to a deep conflict here over government and culture. Atzompa used to be simply a rural village run according to the communal "usos y costumbres" system of government, in which full civic rights accrue only to people who participate in government or community service and are born in the community. But as new residents began to outnumber old ones over the past few years, the recent arrivals complained that they were paying taxes and getting few or no services in return.
Last year, the community hit an impasse. When the municipal president's term ended, a state administrator took over. Now the state legislature must decide whether to keep "usos y costumbres" or establish the kind of party system found in most of Mexico.
Meanwhile, the economics of Atzompa have been changing, not all for the good. Construction workers say that increased competition has decreased their daily rate to $11, from $14 five years ago, while prices for empty lots have doubled to about $7,200.
Inside Mr. Espíritu's shop, these are the kinds of new developments that fill conversations and hint at problems to come. "With all this urbanization, there is a lot of work, but what happens when it's over?" said Sergio Morales, who had come to order a door for his house.
One optimistic possibility, he said, was that the current decline in migration to the United States would lead Mexicans to study, work and slowly build businesses here instead of fleeing for higher wages in the United States. "Look at this guy," Mr. Morales said, pointing to Mr. Espíritu. "He has been doing it for years."
New survey research from the University of California, San Diego, suggests that more internal migrants are now moving to areas closer to home, rather than going to states closer to the border or to the capital. One in five people who left the northern village of San Miguel Tlacotepec between 2001 and 2011 stayed within Oaxaca State, according to the university survey of every town resident, up from a little over one in 10 from 1997 to 2007.
But as the new migration patterns show, movements of people -- like capital -- are fluid and can change. Many of Mexico's young people are betting that more education will land them better jobs at home over the coming years. But right now, said David Fitzgerald, a demographer at the University of California, San Diego, "their aspirations are higher than their opportunities."
Whether Mexico closes that gap may determine whether the Mexican economy holds onto its new graduates, or whether once again they decide to head north in droves.
"That's our great challenge," Governor Cué said. "We have to find jobs for all these young people who are studying."