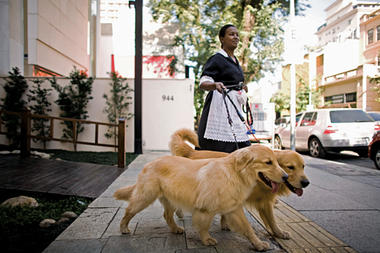 (above) A maid walks a pair of golden retriever puppies along Oscar Freire Street in São Paulo – Brazil's version of Rodeo Drive in Beverly Hills. Increasingly educated workers in a booming economy are less tolerant of low pay and disrespect. (Bruno Miranda/Reuters/File)
The working class rises up across Latin America
Jan 28, 2012 - Christian Science Monitor
Maids, parking valets, and other domestic workers push back against ill treatment in 'the world's most unequal region.'
By Sara Miller Llana, Staff writer, Steven Bodzin, Correspondent
Mexico City; and Santiago, Chile
When parking attendant Hugo Enrique Vera was beaten by a wealthy client in Mexico, allegedly for refusing to show the man where to find the jack in his car, the surveillance camera captured a stereotype dating to colonial times: The wealthy resident asserts authoritarian control over the worker, who takes the beating without question.
But there was a twist: Mr. Vera filed a criminal complaint and condemned his perpetrator on national news, unleashing a charged debate about callousness toward the working class.
For two decades, social movements in Latin America have centered on indigenous rights. Today the indigenous have earned new political representation, and open mistreatment will draw complaints.
Yet daily life across Latin America is replete with symbols of stubborn class inequality that go unchallenged, such as condominium buildings that have separate elevators for domestic workers.
Such constant reinforcement of status differences helps to cement class privileges in what the United Nations has said is the world's most unequal region.
While maids in crisp uniforms and parking valets at every urban venue aren't about to disappear, they and other la-borers are increasingly better-educated and aspire to move into the middle class.
Less tolerant of abuse and discrimination, these maids and nannies, doormen and gardeners are demanding more pay and benefits and a baseline of respect.
"There's democratization in the political arena, participation, and citizenship rights ... [and] moderate economic development. So in this context, citizens start feeling they have the right to be seen as what they are – citizens," says Florencia Torche, a sociology professor at New York University and Catholic University in Santiago, Chile.
An apology is offered
The parking attendant controversy, which went viral on YouTube and drew a public apology by perpetrator Miguel Sacal, wasn't an isolated event. Last summer, Mexicans were outraged after two upper-middle-class women in a rich district of Mexico City were caught on video calling a police officer a "crappy wage slave." The daughter of the leading presidential candidate caused an uproar in December after retweeting a message calling her father's opponents "a bunch of idiots who are part of the prole," a reference to the proletariat, or poor people.
"There is less tolerance for discrimination by society," says Raúl Villamil Uriarte, an anthropologist at the Metropolitan Autonomous University in Mexico City. In the case of the parking attendant who brought attention to his own case, he adds, the classic "victim" devictimized himself.
Changes in the maid's quarters
Nowhere is more change taking place than in the domestic sphere. While in the United States only the wealthy can afford live-in nannies and daily housecleaning, in Latin America, maid's quarters are ubiquitous, even in the homes of the middle class.
But newer apartments increasingly are built without such spaces – reflecting upheaval in the structure of the home.
In Chile, maids and nannies are demanding bigger salaries and more benefits and insisting on living with their own families, says Monica Escandon, who runs the nanny and maid service Nana.cl in Santiago. "[Domestic workers] know that their work has a high value and that they are necessary, especially for young couples who both work," she says.
Salaries have risen to at least $500 a month for a nanny who works five days a week and as much as $800 a month for a live-in maid, she says. Employers are also responsible for taxes, food, and transportation. As in the US, wealthier Latin Americans now hire immigrants from poorer countries like Peru, Bolivia, and Paraguay to get the same amount of work for lower prices.
The rising wages and greater emphasis on professionalization is resulting in greater respect. When a popular gossip magazine in Colombia recently ran a picture of servants in uniform standing behind their wealthy employer, the depiction set off a storm of rebuke.
In Chile, meanwhile, a country club last month barred nannies from entering the pool with their young charges and said they had to wear their uniforms while on the premises. The club owners have faced a barrage of recriminations, with critics calling them snobs and classists.

'Respect comes first'
Fighting back has come later for the working class in general than it did for the indigenous, says Christopher Sabatini, editor in chief of the policy journal Americas Quarterly in New York. For one thing, the working class did not have the advantage of identifying along ethnic and geographical boundaries.
But economics and the democratizing influence of social media have given them an edge: With positive economic growth across Latin America, poverty falling, more access to credit, and many entering the middle class – 56 million households have joined the middle class in Latin America in the past decade and a half, according to the UN Economic Commission for Latin America and the Caribbean – class is less static than it once was.
"The rigid status hierarchies of the past are starting to clash with notions of quality of opportunities," says Mr. Sabatini.
Pilar Montes, a maid who works in the upscale Santiago district of Las Condes, says that if she were mistreated, "I'd be out the door in a flash. Respect comes first."
Ms. Montes travels more than two hours each way to work for $700 a month – better pay than she earned previously as a waitress, saleswoman, or cook. But she says she would discourage her children from choosing a similar career. They are all in school, with one studying accounting and another starting nursing school. "One has to keep moving up," she says.
That sentiment is reflected in data from Brazil, where 39 million people joined the middle class between 2003 and 2011. The government's economic research institute, IPEA, said in a May 2011 report that while domestic workers remain underpaid and undereducated, they are improving slowly on both fronts.
That fact might be behind a shift that shows that young people under 30 made up a smaller share of domestic workers in 2009 than they did in 1999, indicating that fewer young people are entering the field.
Marcelo Neri, an economist at the Getu­lio Vargas Foundation in Rio de Janeiro, says that the income of domestic workers increased 5.05 percent per year from 2003 to 2009, compared with 1.16 percent for employers; those receiving social security rose from 20 percent in 1995 to 31 percent in 2009. And they are not alone: From construction workers to waiters, all groups have seen improvement in their lives, from better pay to more respect.
Discrimination persists
The working class is still vulnerable. Arturo Alvarado, a sociologist at the College of Mexico in Mexico City, says that discrimination will persist as long as there is a supply of low-skilled labor working without proper contracts.
He says workers in many offices in Mexico must be submissive just to keep their jobs. But he agrees that changes are afoot.
Ms. Torche sees it as a longer-term dynamic toward more egalitarianism, but that it is fraught with contradictions, especially because political inclusion has outpaced economic equality.
"It is not going to be linear," she says. "[But] we have more political and economic integration and educational expansion. Many more people are exposed to the educational system and are learning what they deserve as citizens of a nation....
"Low-qualification labor is becoming scarce," she adds. "The Latin American elite will have to get used to it."