(above) Activists in favor of a road-building project enter La Paz, Bolivia. Photo by Aizar Raldes/AFP/Getty Images.
Bolivia's Morales Caught Between Indigenous Roots, Economic Demands
February 1, 2012 - PBS
By: Larisa Epatko
One of South America's most controversial leaders finds himself -- yet again -- squeezed between two competing demands and constituencies.
Bolivian President Evo Morales this week encountered another protest related to a controversial road-building project through an Amazon rainforest that he canceled last year -- this time from supporters hoping to revive it.
The support of the government's plan comes a little too late, since the project was canned, and there are no prospects of a reversal, said Simeon Tegel, a Lima, Peru-based correspondent who reports on Latin American issues for GlobalPost. "Arguably, they're probably complicating his life a little bit given that he's now backtracked on the road."
Morales, who has been president since 2006, was easily reelected in 2009. His popularity flagged, however, when his government proposed building a highway through the Isiboro Secure National Park and Indigenous Territory -- protected parkland where indigenous people live.
The Brazil-funded highway would have connected Bolivia to the Pacific through Chile and the Atlantic through Brazil. The road was meant to promote development in an economically depressed area, the government said, but opponents feared it would lead to colonization of the reserve and deforestation.
Under pressure from the Amazon reserve's inhabitants, Morales canceled the project last year. But other indigenous people felt it would benefit the region economically, and hundreds of protesters embarked on a 40-day march to the administrative capital La Paz demanding the government reverse its decision.
The protesters arrived in the western city this week, joined by other demonstrators.
It seems unlikely Morales will change his mind. "For Evo Morales to make any kind of commitment to those marchers that he would build the road now would be to go back on the previous commitment he's given to the people who were against the road," Tegel said. "He would then have to do two U-turns on the issue. You never know, of course, but I would imagine they're not going to get the road they want."
(below) Bolivian President Evo Morales. Photo by Jose Luis Quintana/LatinContent/Getty Images.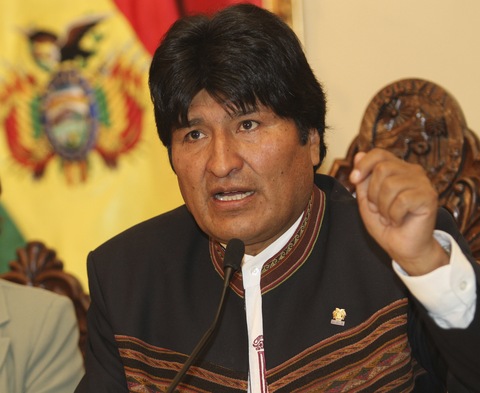 The project has put Morales at odds with his indigenous farming upbringing, as have his promises to protect the environment, a rift he continues to try to repair, Tegel reported.
Morales was born into the Aymara indigenous ethnic group in the Andean highlands, a group of people who tend to back roads, industry and economic development, said Tegel. But indigenous populations in the tropical part of the country, generally speaking, don't want that, he said. "They want to a certain degree to be left alone. That doesn't necessarily mean they don't want economic development, but they want a different model and they want it done much more at a community level."
Economics is a huge issue in Bolivia -- one of the poorest countries in Latin America -- and a major driver in policy decisions, Tegel said. "That tension between his indigenous and environmental discourse and some of the projects he actually wants to do, including increasing mining in the country, is at the very least a paradox and something his critics are calling hypocritical."