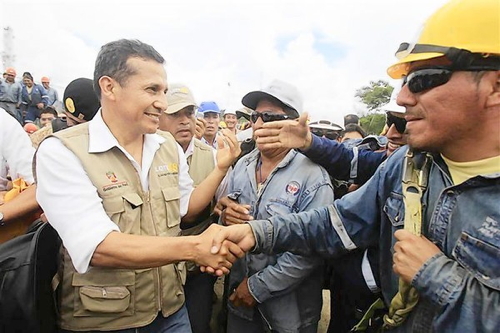 (above) Peru's President Huamala is greeted by workers at the Camisea natural gas project in the Amazon jungle in Cuzco (ENRIQUE CASTRO-MENDIVIL, REUTERS / April 3, 2012)
Peru leader sends brother to solitary confinement
April 3, 2012 - Chicago Tribune
LIMA (Reuters) - Peru's president sent his loquacious brother to solitary confinement this week to end his embarrassing spectacles - only to have him show up in court on Tuesday and say he was beaten and bruised by prison guards.

Antauro Humala, the cowboy hat-wearing younger brother of President Ollanta Humala, is serving a 19-year prison sentence for leading an attempted 2005 coup against former President Alejandro Toledo in which killed four police officers were killed.

Photographs and TV footage of him cavorting with girlfriends, using his iPhone and puffing on marijuana cigarettes while behind bars roiled the presidential palace this month and dented the president's approval rating, now at 53 percent.

Prison officials seized his cell phone and transferred him to a more secure prison earlier this month, but he threatened guards there.

"He is a poorly disciplined prisoner who doesn't respect the rules," Justice Minister Juan Jimenez said on Monday.

Antauro was then put in solitary confinement at a prison that holds two notorious criminals: Abimael Guzman, the founder of the Maoist rebel group Shining Path, and Vladimiro Montesinos, who ran jailed former President Alberto Fujimori's dirty war against insurgents in the 1990s.

The government's attempt to silence Antauro backfired on Tuesday when he went to a court hearing as part of a longstanding appeal to have his sentence reduced. The hearing was shown on live television, giving him a bully pulpit.

"I was attacked by troops wearing hoods. They threw me on the ground and beat me," he told the judge while pointing to bruises on his arms and legs.

Prison officials have not responded to Antauro's claim and the judge sent him to be examined by a doctor.

Antauro's parents have protested against him being put in solitary confinement, causing tensions within the Humala clan.

The president has tried to distance himself from much of his eccentric family since taking office in July. His mother has accused him of "betraying" the family.

"Antauro has been kidnapped," said the president's father, Isaac, who founded an ethnic nationalist group that seeks to reclaim the glory of Peru's Incan past.

(Reporting By Terry Wade; Editing by Sandra Maler)