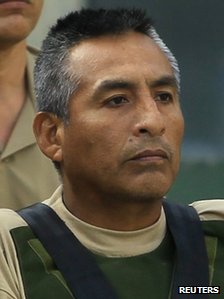 (above) Peru says Comrade Artemio is the last of the rebels' "historic leaders"
Shining Path 'defeated' in Alto Huallaga stronghold
April 5, 2012 - BBC
Peru's President Ollanta Humala says the Shining Path rebel group has been "totally defeated" in one of its former strongholds.
Mr Humala said the capture of Shining Path leader Freddy Arenas this week signalled the end of the Maoist guerrillas in the Alto Huallaga Valley.
The Shining Path posed a major challenge to the Peruvian state in the 1980s but has since dwindled.
Small gangs remain in the south-east, where they run much of the drug trade.
The announcement came a day after Peruvian security forces made public the arrest of Mr Arenas in the Alto Huallaga Valley.
'Total defeat'
The security forces said Mr Arenas, better known as Braulio, took over the leadership of the Shining Path in the region after the arrests earlier this year of previous leaders Comrade Artemio and Walter Diaz.
"Not only have we caught the last of the historic leaders, Artemio, but also those leaders who took over from him, totally defeating them," President Humala told TV Peru.
"Now the government's objective is to enter the Apurimac and Ene valleys (in Peru's south-east) to eradicate them completely," he said.
The Shining Path has lost most of the territory it held in the 1980s and early 1990s, but small gangs remain in the south-eastern valleys, which are also at the centre of Peru's illegal cocaine production.
Inspired by Maoism, the rebels tried to lead a "People's War" to overthrow what they called "bourgeois democracy" and establish a communist state, but the Peruvian security forces say the rebels now mainly dedicate themselves to drug trafficking.