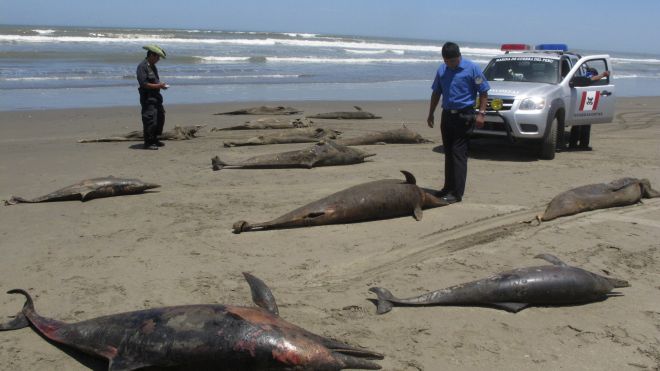 (above) In this April 6, 2012 photo, officials stand next to dolphin carcasses on the shore of Pimentel Beach in Chiclayo, Peru. Scientists and Peruvian officials are investigating a mass die-off of hundreds of dolphins along the South American country's coast. (AP Photo/Nestor Salvatierra) (AP2012)
Hundreds of Dead Dolphins and Pelicans Force Massive Beach Closings
May 7, 2012 - Fox News

In an unprecedented ordinance which has generated both speculation and alarm, Peru has closed all ocean beaches north of Lima to the public.
Health officials are taking the extraordinary step of closing the beaches after hundreds of dolphin carcasses washed up on the shores of Peru – and the reason why continues to be a mystery. Peru's Health Ministry and oceanographic institute say 877 dolphins and 1,200 pelicans have been found dead on the beaches since February, but their deaths don't appear to be related.
The warning did not indicate why it might be dangerous to visit beaches. Peru's agricultural safety service ruled out Friday that the pelicans could have died of avian flu, which could be contagious to humans.
Local fishermen and restaurant owners said Saturday's warning hasn't had much effect on their businesses.
It's the low season for Peruvian beach-goers, in any case.
A check of Lima's beaches found no dead animals on the shore but sanitation crews were cleaning up an unusually large amount of garbage and debris including plastic bags and bottles and pieces of wood.
Among the possible factors are a virus or seismic oil exploration that has recently been carried out off northern Peru.
An analysis of the beached dolphins' internal organs hasn't found the sort of symptoms that experts have seen in other cases when dolphins have been affected by seismic tests, experts have said.
Seismic tests produce underwater noise that can harm dolphins. But in Peru, it's the first time such dolphin deaths have coincided with seismic work and that the dolphins began dying before the tests started.
Carlos Yaipen, who leads the non-governmental organization Orca, said the beached dolphins began appearing in January. Dolphins have had broken bones in their ears and some of their organs have been collapsed, suggesting that shock waves generated by the seismic tests could have killed them, Yaipen said.
However, Patricia Majluf, the government's deputy fisheries minister, said that based on the available evidence officials haven't been able to pin down any relationship to oil exploration.
Based on reporting by The Associated Press.