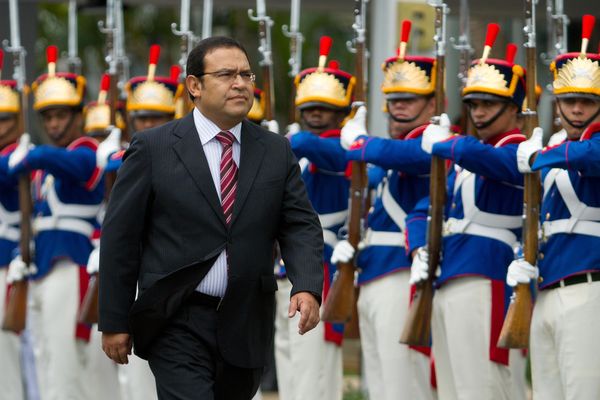 Peru ministers resign over antidrug sweep
May 10, 2012 - LA Times
LIMA, Peru -- Peru's defense and interior ministers resigned Thursday shortly after the Congress opened a debate to consider censuring them for their handling of an antiterror and antinarcotics operation in a valley known for coca cultivation and the presence of the leftist rebel group Sendero Luminoso, or Shining Path.
Defense Minister Luis Alberto Otarola and Interior Minister Daniel Lozada resigned after legislators blamed them for the deaths of 10 soldiers and police officers conducting drugs sweeps over the last month in a region known as VRAE, or the Valley of the Apurimac and Ene rivers. Rebels are suspected in the killings.
The toll is higher than that suffered by the armed forces during all of 2011, when nine police officers and soldiers were killed in similar sweeps. Critics charged that the recent operations were poorly planned.
President Ollanta Humala is on a state visit to South Korea and Japan, but his office confirmed the resignations. Had the censure come to a vote in Congress, it could have provoked a political crisis for his administration.
The VRAE has become an increasingly important center of coca farming and cocaine processing because stronger law enforcement in Colombia is pushing traffickers southward to neighboring Peru and Bolivia. Peru may overtake Colombia this year as the world's largest coca farming nation and cocaine producer in the annual survey that the United Nations Office on Drugs and Crime is scheduled to release next month.
The recent sweep, which involved 1,500 police and soldiers, has been called off. The operation was prompted partly by the kidnapping of 36 natural gas workers near Cuzco last month. The Shining Path group, which released the workers shortly thereafter, claimed responsibility.
The rebels are active players in the upsurge of Peruvian cocaine production, counternarcotics officials here have said. The rebel group has reemerged from near extinction in the 1990s, when it steered clear of drug trafficking as a violation of revolutionary ethics. Now authorities believe the rebels traffic in drugs to finance their insurgency.