Bolivia: Surreal beauty in the high desert of the Andean plateau
May 12, 2013 - Los Angeles Times
Lounging flamingos, gleaming salt flats, smoking mountain peaks. A wondrous if unforgiving landscape unfolds as an outfitter takes care of necessary details.

By Margo Pfeiff

POTOSÍ, Bolivia-- A gentle breeze swept across Laguna Colorada, momentarily turning the magenta mineral lake water neon-orange as it rippled around the knobby knees of several dozen flamingos. Suddenly, a pair of frisky vicuñas trotted through the shallows, sending the flamingos aloft like a flock of hot pink pterodactyls.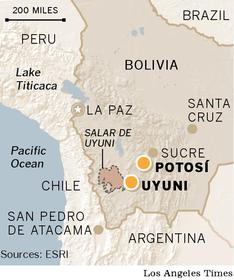 It was that kind of week. I tend to be lightheaded at altitude in the best of times, but road tripping across the Bolivian altiplano was downright psychedelic.

In the shadow of snow-capped -- and sometimes smoking -- Andean peaks, we sped across Salar de Uyuni, a salt plain so large it looked like an ice sheet stretching to the horizon. Technicolor mineral pools dotted the landscape, populated by exotic critters and extraterrestrial-looking vegetation, geysers and boiling mud pools.
When I hiked through a forest of towering cactus one day and saw bunnies with long fluffy tails hopping about, I began to wonder whether I had fallen down a rabbit hole.
Traversing the high desert of the Andean plateau -- from 11,000 to 15,000 feet -- in Bolivia's southwest had long been at the top of my bucket list. I love road trips, and this one struck me as Hunter S. Thompson-esque, surreal but without the mind-bending drugs the gonzo journalist ingested on his landmark "Fear and Loathing in Las Vegas" odyssey.
Surreal, yes, and scary. I hated to admit it, but I was concerned about the risks of such a trip."Road-tripping" in Bolivia is something of an exaggeration. At best the roads are rough tracks through a remote region with a handful of low-end hotels and hostels. I had heard stories about crowded vehicles breaking down in the desert without spare tires or a way to call for help, about altitude sickness and running out of drinking water.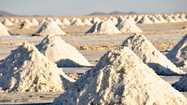 Then I learned that a few international outfitters offered cushier, safer options that included certified guides, communications and oxygen equipment, reliable vehicles, and clean food and water. Santiago, Chile-based Explora had started five-day, four-night travesías -- traverses -- from Uyuni in Bolivia through the Andes to its luxury Hotel de Larache in San Pedro de Atacama in northern Chile (and vice versa). To do so, it had crafted its own creative accommodations along the way.
I had found a way to have the adventure without the peril. In October, I met with three other guests -- Tim Scott from Florida and Claudia de Arruda and Keiko Oka of Brazil -- and Explora's Chilean guide, Luis Guzman. We gathered in the old silver mining town of Potosí before zooming three smooth highway hours to Uyuni (elevation 11,500 feet), a Wild West salt-mining town on the edge of the 7,440-square-mile dry salt lake.
We hit the salt, driving straight onto the wide-open plain in our hefty adapted minibus, the hard-textured surface shuddering beneath our wheels. We passed tiny clusters of stone houses and whitewashed churches before veering off an hour later at the village of Tahua (population 20).
There we met Felix Urrelio, our Bolivian driver and trip logistics whiz, in front of our home for two nights, three centuries-old wood and stone cottages with mud and thatch roofs like those in the rest of Tahua. Ours had been insulated and renovated in a traditional rustic style.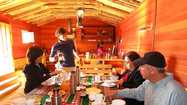 Three small double bedrooms, each with puffy down expedition sleeping bags and alpaca blankets atop deluxe cots, made up one house. Across a tiny courtyard, a second cottage had three spacious bathrooms complete with hot rain showers, robes and amenities.
In the kitchen and dining cottage Felix's wife, Hortencia, had prepared a multicourse dinner that included hearty local quinoa and vegetable soup with a grilled lamb-chop "popsicle" to pick up and munch with the hand that was not holding a glass of Chilean wine.
Later, under a full moon that made the salt plain glow eerily, I slipped into my sleeping bag's silk liner, the chocolate left on my pillow melting in my mouth.
A thundering sound jolted me out of a dead sleep the next morning. When I cracked open my door, I saw a trail of dust from a herd of llamas stampeding through the village streets. They were on their way to pasture ahead of a stout woman wearing a billowing skirt and a tilted bowler hat and carrying a long stick.
We hiked up the lower slope of 17,820-foot Tunupa, a volcano streaked with colored soil, to the first of many mummies we would encounter. The super-dry air had preserved them in the last eruption, when the Roman empire was at its peak.
In nearby Chantani (population 4) we dropped in at an intriguing little museum and outdoor sculpture garden, then strolled back to our refuge, communing with grazing llamas and chatting with farmers about how the international interest in their local crop, quinoa, is now allowing them to send their children to university in La Paz. At sunset we headed into the middle of the Salar de Uyuni salt flat and watched low pink rays glitter across the polygon-patterned crystallized plain while we sipped Champagne.
We left Tahua the next morning for Isla Pescada, the biggest island in this salt plain. It becomes an 18-inch-deep lake during the December-to-March rainy season. An easy hike to the summit took us through cactus 30 feet tall. Viscachas -- cute, long-tailed rodents that seem part rabbit, part chinchilla -- scurried into burrows at their feet.
A posse of viscachas doing the cha-cha on the rooftop of our next vamped-up stone cottage abruptly woke us at dawn the next day. We left the salt behind on a breathtaking climb to 13,500 feet, where we were surrounded by glacier and snow-capped peaks that topped out at more than 20,000 feet. Felix navigated stretches of "road" that were mere boulder-strewn ruts.
We came across a magical desert cave, a wizard's lair with delicately lacy stalactites alongside a pre-Incan cemetery. Mini-tornadoes twirled across the desert as we hiked past wind-sculpted stone hoodoos. That's where I first spotted the Blob. "Llareta," Luis identified the huge and bizarre green, moss-like mounds that are a high-altitude relative of parsley. "The plant lives over 3,000 years and exudes a highly flammable resin," he said.
As the air got thinner, things got weirder, so I was hardly surprised that our guesthouse for the night was a series of repurposed 40-foot steel shipping containers with a killer view. Outside, after Hortencia's dinner of fork-tender wild duck, stars scattered across the night sky looked like an exercise in pointillism.
Our last travesía day was a surreal parade of multicolored mineral ponds, most crowded with three species of flamingos. Laguna Colorada was, as its name implied, particularly colorful, shimmying from burgundy to orange to pink with shorelines of white and yellow salt.
We topped out at 15,400 feet amid geysers and plopping mud ponds, then reached the Chilean border crossing. After almost 600 hard-core miles we said goodbye to Felix and hopped into a waiting SUV that dropped us 7,000 feet in 29 blissfully paved highway miles.
By the time we reached San Pedro de Atacama, a mellow desert outpost of adventure travel shops, boutique hotels, bars and restaurants at 8,200 feet, my lungs were drunk on oxygen.
After almost a week of eyeball-stinging dust and lunar landscapes, the trees and lush gardens around Hotel de Larache were as much a shock as the sudden luxury. Explora, known for its desert expeditions, had also taken advantage of Atacama's clear skies and built an on-site observatory for guests.
On the hour-long shuttle downhill to Calama's airport, we passed an entourage of experimental solar cars racing in the 800-mile Atacama Solar Challenge. As the shiny, insect-like vehicles whizzed across the driest desert in the world, I couldn't help but wonder what Hunter S. Thompson would have thought he was seeing.