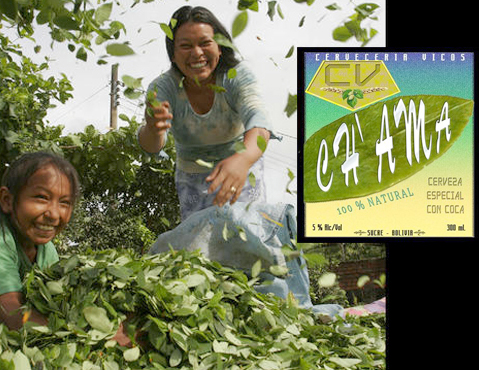 (above) Bolivian coca farmer and her daughter put newly-cropped coca leaves to dry by the sun in the Villa 14 de Septiembre, nearly 124 miles east of Cochabamba, Bolivia.
Bolivia Serves Up Coca Beer To Fight Altitude Sickness
May 15, 2013 - Fox News Latino
A brewery in Bolivia has come up with a way to get buzzed in more ways than one: coca beer.
Combining the thirst-quenching capability of beer with the stimulating effect of the Andean nation's coca leaf, Ch'ama is a coca and barley-based alcoholic drink that brewers claim helps locals and visitors cope with Bolivia's notorious high altitude (close to 12,00 ft).
"As good Germans we love beer," said Hamburg native Malina, according to The New York Daily News?. "There are many types in Germany, but this coca beer is good because here in La Paz it helps us handle altitude sickness."
Coca, the base substance in the production of cocaine, has been used for centuries by people native to the high Andean region as a stimulant and to ward off the debilitating effects of altitude sickness. While it is traditionally rolled up and chewed, it has also become popular to concoct a tea out of the plant.
Ch'ama beer, which means "Strength" in the Aymara language, is a blend of malt, yeast, hops and coca leaves, with no additives or preservatives. The coca leaves are soaked in water before malted barley and hops are added and mixed until it gets its proper consistency.
Following a 20-day fermentation process, the hooch is bottled and shipped out to distributor Cerveceria Vicos, a brewery based in the southeastern city of Sucre?. The small brewery produces 10 hectoliters of coca beer a day and a bottle sells for up to $3.60 each in Bolivia and border cities in Chile and Peru.
"This is a highly fermented white beer with five percent alcohol content, unfiltered, unpasteurized, and has the moderate aroma, color and flavor of coca leaf and hops," Vicos owner and manager Victor Escobar told AFP.
Local bar owners said the speedy suds have become very popular with tourists who "who want to try something new," according to Alejandra Orihuela, owner of a bar named K'umara ("Healthy" in Aymara).
The ubiquitous use of coca in Bolivia has become a point of contention between the government of President Evo Morales and the United States, who wants to eliminate the leaf as part of its anti-drug effort in the region.
Coca growers such as Morales point out that indigenous communities have for centuries chewed coca to fight off the effects of altitude sickness and fatigue and use it in religious rituals.
A 1975 Harvard University study also found the leaves to have a surprisingly high nutritional value, rich in calcium, iron and vitamins A, B2 and E. However, it said the "toxic alkaloids" comprising 0.25 to 2.25 percent of the plant "could make the nutritious coca leaf undesirable as a source of nutrients."
U.S. counterdrug officials insist most of Bolivia's coca crop goes to cocaine production and say the country has also become a haven for Colombian drug traffickers who also use Bolivia to refine coca paste imported from Peru.
Bolivia has the world's third-largest coca crop after Peru and Colombia, with more than 67,000 acres (27,000 hectares) under cultivation, according to the U.N. Office on Drugs and Crime. Unlike Colombia, however, most of its cocaine heads not to the United States but to Brazil, Argentina and Europe.
The Associated Press contributed to this report.